Your Perfect European City Break: Plovdiv, Bulgaria
Europe has been a tourist hotspot for decades and there are certainly many incredible places that you can visit. When planning a trip you want to make sure your next destination is even more exciting than the last, packed with new adventures, sights – as well as unique, local culture to explore. In need of some fresh ideas? Plovdiv has been on the top of every traveller's list, especially since becoming the European Capital of Culture for 2019. This not so ''hidden'' little gem has much to offer its visitors in terms of culture, history and incredible sites. Are you ready to discover Plovdiv with us? Here's how to plan your perfect Plovdiv city break and see all the best the town has to offer!
Why Plovdiv is the perfect place for a city break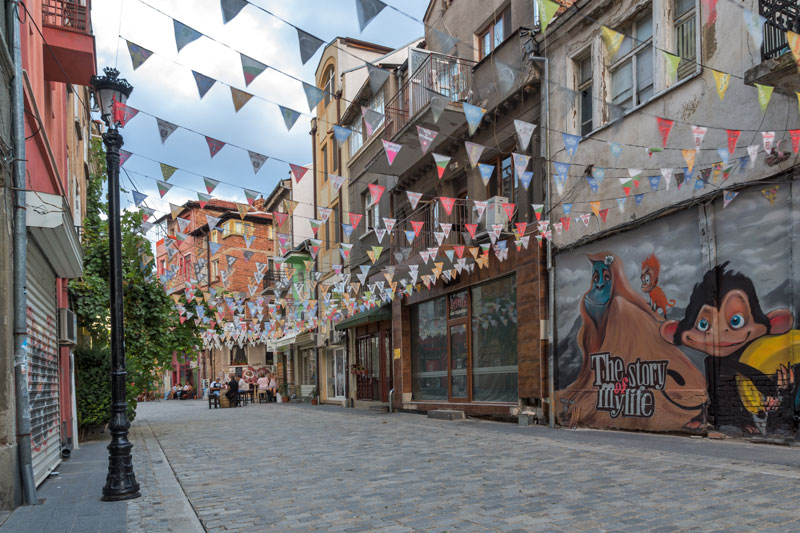 Simply put, Plovdiv is ancient, charming, full of sites to explore and it's also budget-friendly. When Plovdiv was chosen to be the European Capital of Culture, it brought forth an even larger wave of culture as the city bloomed in a series of events and festivals, many of which are still ongoing. Travellers from all over the world made their way down to the colourful streets of the ancient city, hoping to discover its many wonders. But that's hardly the only reason why people visit and inevitably fall in love with Plovdiv!
1/ It's different (or shall we say special)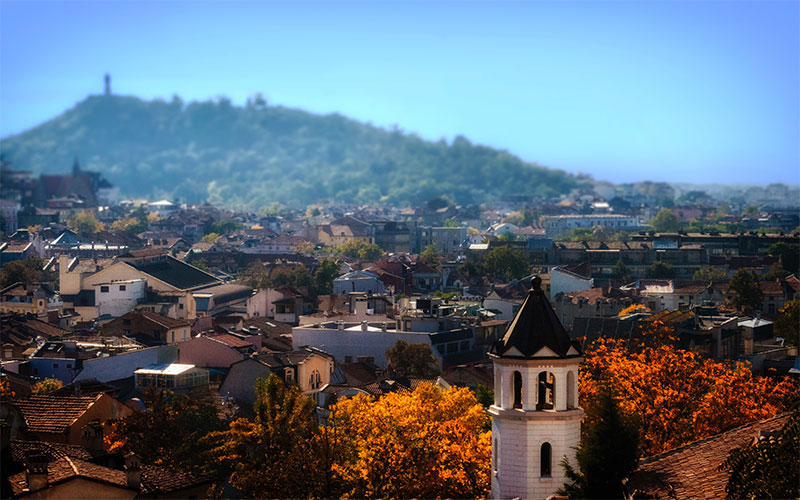 It's true, there are many great places to visit in Europe but there isn't one quite like Plovdiv. The town's been around for more than 6000 years, beginning with the Thracians, and it has withstood centuries of war, turmoil and transformation. There are monuments of its history scattered around town and walking through them is like a walk through time.
Anyone who's ever been to Plovdiv will tell you that the city has its own unique, special charm. The beautiful combination of ancient ruins, historical sites, museums and galleries contrasts perfectly with trendy districts, modern-day culture and lifestyle.
2/ It has a unique blend of ancient and modern culture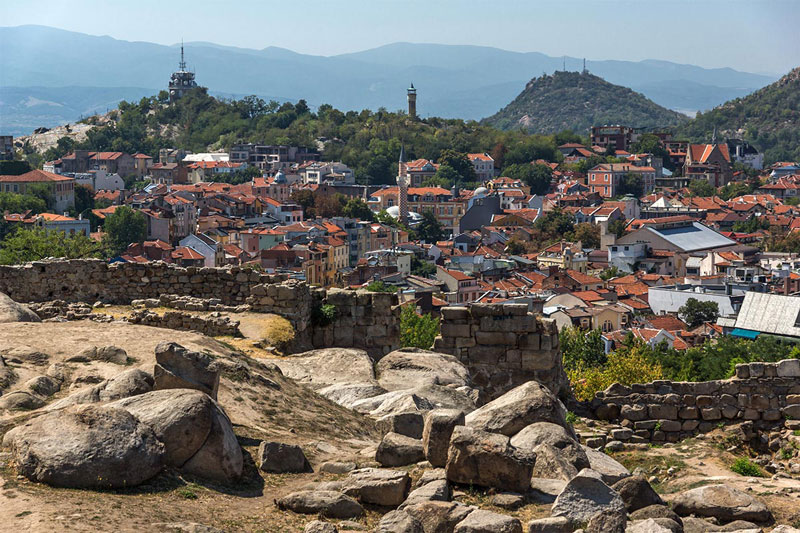 Plovdiv is a crossroads of ancient cultures all blended into one incredible foundation onto which the modern city continues to flourish to this day. Apart from the well known Roman ruins, you can also see other traces of past civilizations such as the remains on top of Nebet Tepe. This is where the history of Plovdiv began more than 6000 years ago as the Thracians settled the lands. Nowadays the hill is a popular place where locals hang out and enjoy the incredible panoramic view of the city. Watching a sunset there is something really special!
Another great example of blending ancient with modern is the transformation of the Kapana district. Over 5 centuries ago, the neighbourhood use to be a craftsmen's district and each of its narrow streets carried the name of the craft that was popular there (iron, goldsmithing). Nowadays the district is one of the trendiest places in town, with many modern establishments thriving in the creative industries.
3/ Some of Europe's best-preserved Roman ruins are in Plovdiv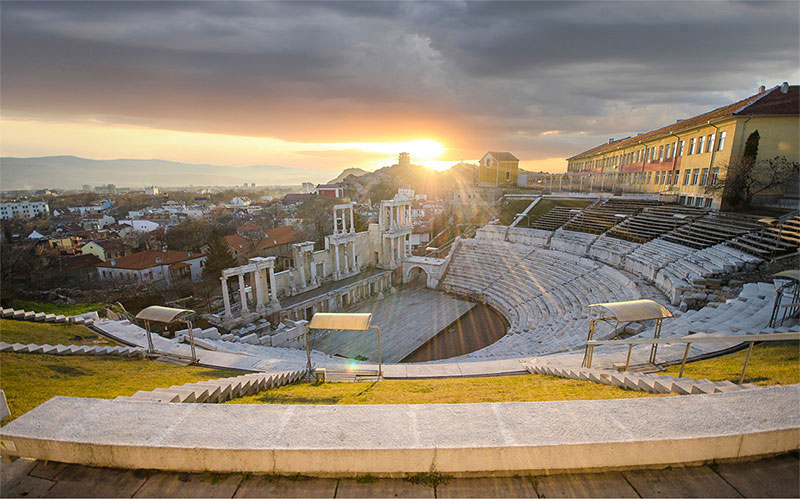 That's right! Some of Europe's best-preserved Roman ruins are located in Plovdiv and you can see them up close. Some of them include an incredible Roman stadium, an ancient Forum and Odeon as well as an ancient amphitheatre that's actually still a functioning venue for concerts, plays and events. This is yet another great example of how the old mixes in with the new.
The Ancient Theatre is host to many events one of which is the world-renowned festival – Opera Open. The prestigious event attracts many people from across to globe and is certainly a unique experience to witness a concert at such an iconic place.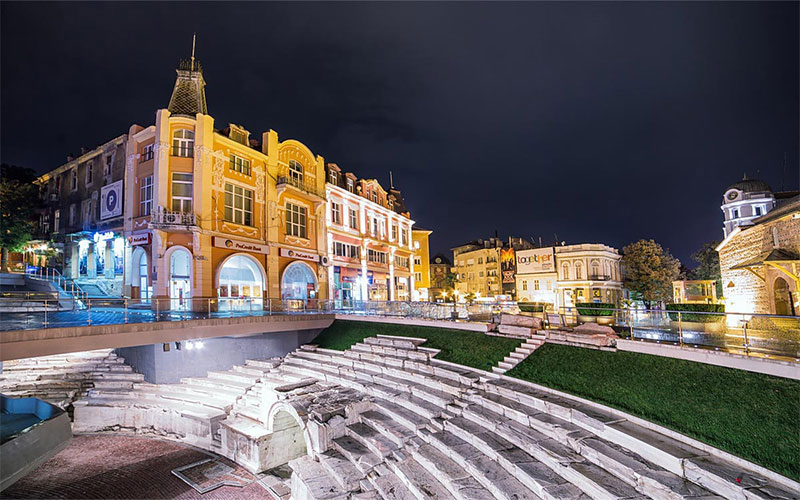 The Roman stadium in the centre is another great place to visit and feel the ancient spirit of the city. The stadium is actually located underneath the main street, at the original level of ancient Philippopolis. There is a cafe there where you sit and enjoy your coffee while looking straight into the stadium, imagining what went on there centuries ago.
4/ The Old Town in Plovdiv is an actual ''living museum'' and you can walk through it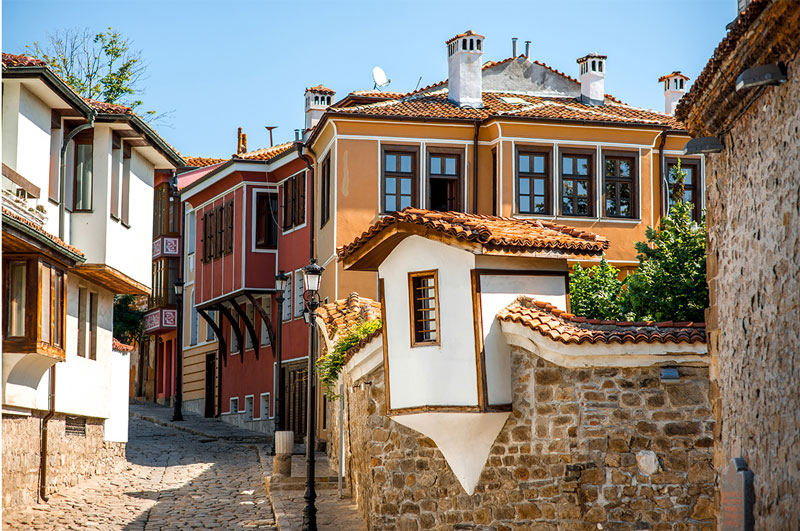 The Old Town bears a very special meaning to the locals around here. The architectural and historical reserve is full of museums, galleries, historic ruins, monuments and some architectural masterpieces from the National Revival period. At the top of the Old Town, you'll also find Nebet Tepe.
What you can see in the Old Town:
For a 1-day itinerary around the Old Town, check out this guide >
Plovdiv City Card gives you free admission to all these amazing locations & more!
5/ There is an entire neighbourhood dedicated to the creative industries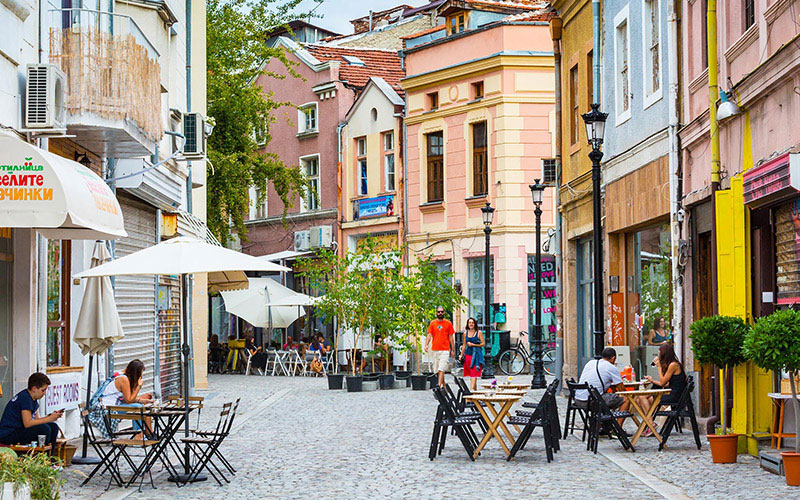 Since we already gave you a little insight into the past of the Kapana district it's time to explore the trendy neighbourhood as it is today. It's no secret that some of the town's best restaurants, bars and cafes are indeed located in the Kapana district. The neighbourhood is also a preferred place of visit for many foreigners, students and artists who all love to spend time there.
Kapana has turned into one of the most popular places in Plovdiv mainly due to the high concentration of cafes, bars, restaurants and shops that sell all kinds of vintage and handmade products and items. Locals love to hang out in the charming, cobblestone streets of Kapana, socializing with friends over an artisan cocktail, local draft beer or a delicious, creative meal. The entire district has a very cosy vibe with many outdoor areas where people can sit. Unique street graffiti cover the walls of buildings and the decor of most places is super vintage!
Some cool places to check out in Kapana:
Pavaj is the local's favourite restaurant. It offers some good traditional classics as well as new and inventive dishes. Everything is made with quality ingredients and is always delicious!
Cat & Mouse is one of the best places in town where you can try local draft beer. A lover of coffee? Stop by Monkey house and try some delicious, freshly brewed coffee any way you like it (the cappuccino is really amazing).
Want to try the best burgers in town? Skaptobara is just the place for that. Their award-winning burgers are very creative and offer tasty combinations of ingredients that really bring out the flavour of the food. The beef is cooked perfectly, toppings are carefully portioned to complement but not overwhelm the burger.
Maybe you want to buy something handmade? Head over to Adriana Robert Atelier in Kapana and get yourself a unique accessory to remember Plovdiv by. You can buy genuine leather bags, handmade bracelets, homeware as well as a wide range of souvenirs.
6/ The city has a lively spirit and a very unique philosophy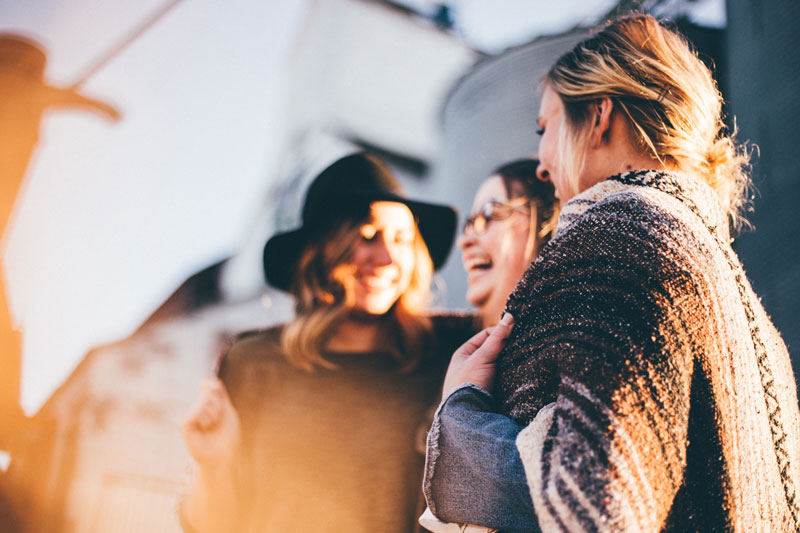 Bulgarians are generally very sociable people and they are well known for their hospitality. The citizens of Plovdiv are no exception to this. What makes them so special is their unique philosophy and way of living called "ailyak". To be "ailyak" means to enjoy life as much as possible every day and make time for the simple pleasures in life. They also like to take their time with whatever they are doing and are mostly very laid back and friendly.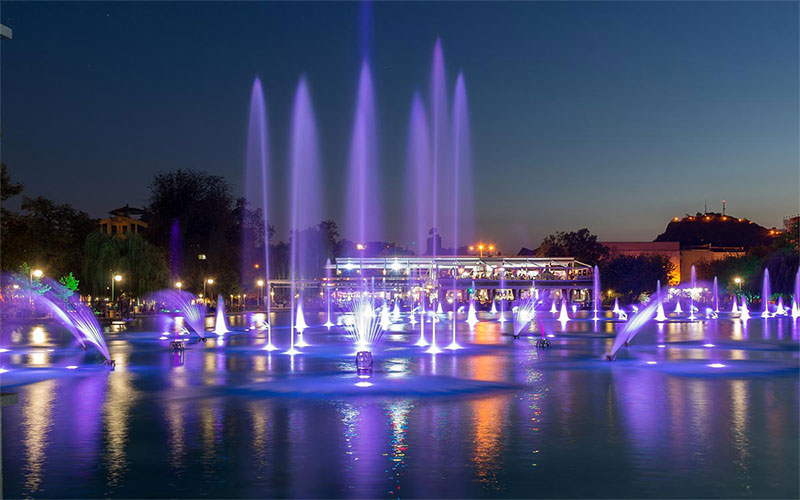 Want to experience Plovdiv like a local? Visit one of the local's favourite spots! Morado Premium Club is located within the beautiful Garden of Tsar Simeon, just next to the singing fountains. The bar is a great place to enjoy a drink in the summer, with the second floor overlooking the entire fountains (during the warmer months, you can see a magnificent light show there).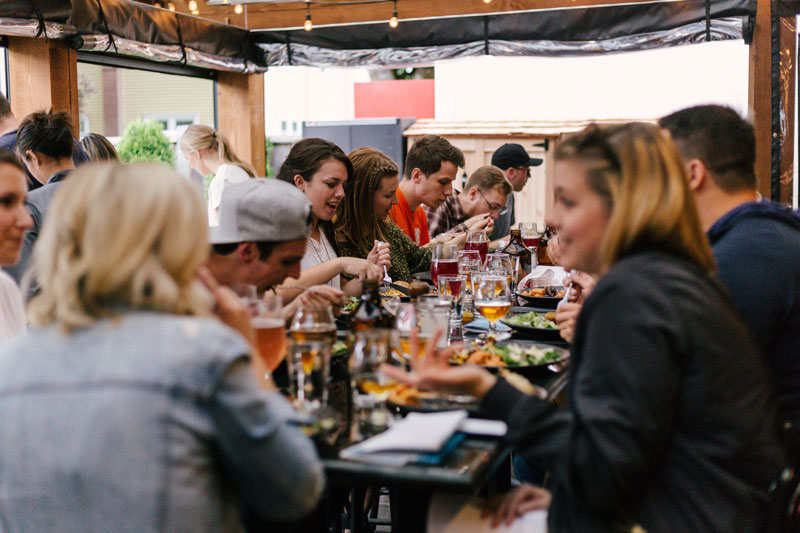 If you walk around the centre of Plovdiv at night, you'll find that's full of people who are just out and about, going on a walk, spending time with their families or socializing with friends. The bars, restaurants and cafes are almost never empty no matter the time of the week so you can say that Plovdivians prefer to be out as much as possible. They also won't shy away from telling you all about their city, history and culture – do get to know the locals while in Plovdiv as they can always give you some useful insight.
7/ The food is just the best – Plovdivians respect their traditional cuisine and create new and inventive dishes all the time
There are quite a few places in Plovdiv where you can taste traditional cuisine. One of the best-known ones amongst tourists is Megdana. The place not only serves authentic, Bulgaria cuisine but also has an evening programme (weekends only) with traditional live folklore music and dance. It's a really unique overall experience and the spectators are often invited to join in the dance.
Want to learn more about the magic of Bulgarian food? Check out these 10 Bulgarian Food Classics To Try While In Plovdiv.
For more modern inventions, visit Multi Culti. This award-winning restaurant is currently one of the best places to eat in Plovdiv. Locals and visitors simply can't get enough of the unique and delicious cuisine here. If you're a fan of quality, gourmet food with a twist, then this is the place for you.
8/ It's budget-friendly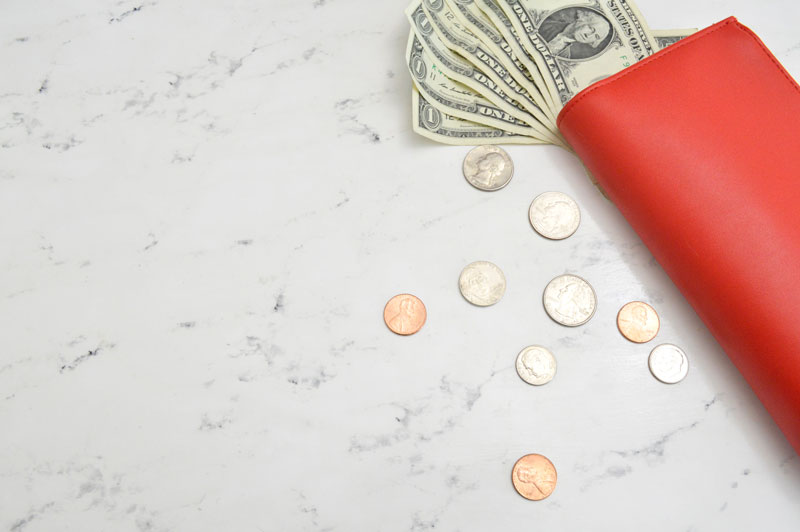 There are many reasons why people choose to visit Plovdiv. One of them is that it's generally a budget-friendly place and you will get good value for your money. What does that mean? It simply means that you can enjoy your vacation comfortably (even with extras), without having to compromise on quality or go broke in the process. Accommodation is affordable, the local cuisine is cheap and much of the centre is a pedestrian zone, meaning you won't need to use public transport all the time.
Accommodation
You can get a room at a hotel for anywhere between 20 – 100 euros depending on your taste and budget. Here are some of the Best Places To Stay In Plovdiv. Or, you can search Booking.com via the widget below!
Transportation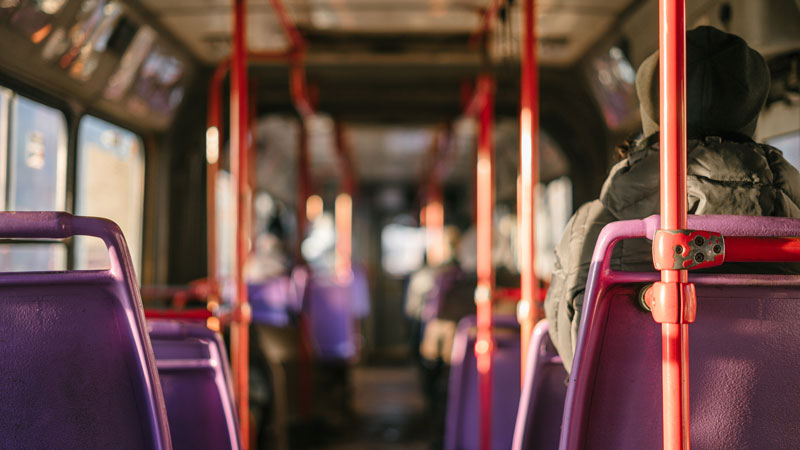 Getting around Plovdiv is not hard at all. The major part of the centre is actually a pedestrian zone so you can explore the city on foot and see most of the key sights there. There is public transport available such as buses and the fare is just 1 BGN per ride. A taxi is also another good alternative for travel which is generally affordable. A one-way fare will cost you roughly 3 – 4 euros (beware of scammers who are usually lurking around train and bus stations).
Food
A standard meal with a drink of choice included will cost you no more than 10-15 euros. Many places in Plovdiv offer lunch menus with even cheaper options. 
9/ Culture & Entertainment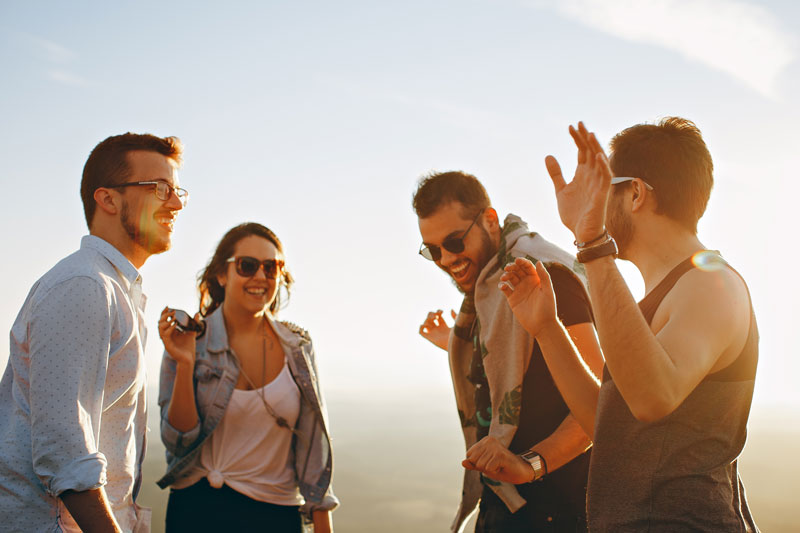 Plovdiv is anything but boring! After spending some time here you'll find that there is always something happening whether it's the Kapana fest, a rock festival, a play, the opera or even a major exhibition/ exposition. Looking for some fun things to do? Here's how you can spend 24 hours in Plovdiv!
Want to be part of the 2019 programme? Here are some ongoing events from this year's calendar.
Well, now you know just how much of a great time you can have in Plovdiv. All that's left is for you to plan that trip and make your way down to Europe's fastest-growing cultural hub. We promise it's worth it!