Discover Kapana Creative District: Plovdiv's Art Hub
There is no other place in Plovdiv like Kapana. And like its name, which means "the trap", this trendy art district will captivate you with its friendly spirit and laid-back Plovdivian vibe. Whether you feel like having a delicious craft beer, walking around cute little art shops and galleries, or relaxing with a glass of wine and a homemade meal, Kapana Creative District is the place where you can have it all.
If you ever find yourself trapped in the colourful streets of the district, make sure to check those places out!
Going for breakfast in Kapana
There is so much to do and see in Kapana Art District that you can easily spend a whole day there. Luckily, there are many places in the little neighbourhood where you can enjoy a tasty breakfast.
"Kapana" Bakery: a place with the scent of childhood memories
This little bakery is a great place to stop by for breakfast or pick up something on the go. You can buy delicious warm bread, pastry goods or a freshly baked croissant with an aromatic coffee.
Here's how to get there from the Tourist Information Centre >
A modern coffee house in Kapana where you can enjoy a cosy, quiet breakfast. Their homemade cookies and cakes are amazing and they have the best cappuccino in town (according to locals).
Here's how to get there from the Tourist Information Centre >
One of the best tea places in Plovdiv and it's also very cheap. The tea house sells over 400 kinds of high quality tea – Green, Black, White, Fruit, Mate, Rooibos, LaPacho, Herbal and Cold Teas. The perfect place to have a cup of tea before starting your day!
Here's how to get there from the Tourist Information Centre >
If you're keen on exploring the coffee culture in the city, look no further than our coffee-lovers guide to Plovdiv >
Going for lunch in Kapana
One could say that almost everything in the Kapana has an ''art touch'' to it and has been crafted close to perfection. So what happens when you mix food with art?
Locals' favourite restaurant: Pavaj
Rated 4.5 on TripAdvisor, Pavaj is a small family restaurant that combines modern flavour and traditional tastes. You'll be immediately drawn by the casual, vintage-inspired charm of the place which has a very intimate, friendly atmosphere.
There aren't many dishes to try from, but the quality is important here and great attention is paid to every ingredient (the owner grows his own veggies so everything is always fresh and natural). Try one of their appetizers such as the homemade liver pate with jam, or the stuffed aubergine. And if you're in the mood for more, the tender pork ribs (everyone's favourite) will make you glad you came here . Combine that with a glass of red wine from a local winery (Zagreus) and you'll have yourself a night to remember.
Here's how to get there from the Tourist Information Centre >
Tip: It could be difficult to get a table, so make sure to call and make a reservation in advance.
Lovely French cuisine in Kapana: Tart Flambe
Tart flambe is a small and cosy French restaurant that's perfect for a light lunch. Try the goose liver appetizer, their 4 cheese platter or the snails in wine sauce. The French tarts and creme brulee are the best from the dessert menu.
Here's how to get there from the Tourist Information Centre >
Tip: This chic, little bistro is also famous for its freshly baked pretzels. They go perfectly with a cold beer!
An afternoon walk around Kapana
If you stroll down Kapana you'll find many shops along the narrow streets. It's a great chance to buy some really unique and interesting items to remember the place by.
B2N: A 3D printing studio. They can scan people, automobiles, objects for exhibitions and movies, monuments and even a dog. This interesting place takes all kinds of requests from customers.
What a Monstar: A creative urban brand for street appeal. Their trendy designs are full of colour and uniquely interesting illustrations.
Билкопродавница (Bilkoprodavnitsa): A herbalist shop that sells over 200 quality herbal teas, products and supplements. They also have their own brand of natural honey and tahini.
Антикварна Книжарница София (Antique library Sofia): The place in Kapana where you can buy some really old and unique Bulgarian books. Icons of the Sofian master theologian can only be found and sold in this bookstore.
ДРЕШНИКЪТ (DRESHNIKAT): The young designer Anelia Yankova is behind this modern fashion atelier. She also sells the works of talented local designers.
Галерия 28 (Gallery 28): A special place for young designers, artists and photographers. You can buy jewellery, clothing and many accessories. The gallery often hosts premieres, literary readings, exhibitions and performances.
Adriana Robert Atelier: A place where you can find the most beautiful ethnic style clothing, accessories and souvenirs!
Where to get souvenirs:
Ръкоделница (Rakodelnitsa): Watch raw weave transform into new and beautiful forms here. You can buy all kinds of textile patchwork, needle-shaped figures, wool sculptures, leather bags and handmade toys, jewellery and art.
All we need is pLOVEdiv: The city brand of Plovdiv. You can buy T-shirts and souvenirs with the famous logo here.
Art studio Giovanna: High quality, custom made leather bags. You can pick a colour and other details on the bag and have it made just how you want it.
Baraka Naturals: A boutique for natural, organic cosmetics and art perfumery. The products rely on the principles of Aromatherapy and their perfumes are made by a lovely French perfumery.
An evening in Kapana
Kapana is a very lively place at night, full of friendly and interesting people just having fun and socializing with friends over a meal and a beer. It's the place in town that really has the atmosphere to make you feel like a local (and you get to taste some amazing food and drinks).
If you're a fan of beer like most people here, we have the perfect place for you. Cat and Mouse Craft Beer Bar is a small stylish bar in the Kapana district. They have a great selection of artisan Belgium beers, local limited editions and even some rare international ones you've probably never tried!
With a charming pedestrian street in front of it, you can spend long warm nights listening to some blues and jazz, reading a book or simply soaking in the laid-back spirit of the neighbourhood and the friendly people.
Top quality whiskey and a great atmosphere: Сандъкъ (Whisky bar Sandak)
A small cosy bar in Kapana where whiskey lovers will find many new tastes in the impressive whiskey selection. The beer is also pretty good and the friendly atmosphere makes it the perfect bar for a drink with friends.
Tip: The bartender Andy is quite the attraction too, so have a quick chat with him and he'll serve you something really interesting.
Join the tradition of drinking delicious local wine: de Gusto Station wine & testing
Drinking wine is a serious business in Plovdiv. Bulgarians have been known for their high-quality wine production for centuries and for their love of drinking it. That's exactly why the winemaking family behind the Bendida winery and Enoteca Bendida opened up a small, cosy bar in the heart of the Kapana.
de Gusto Station is the trendy bar you simply need to try! The attractive bar stools and French oak barrels turned into tables, create a welcoming atmosphere. Grab a glass of nice white, red or rose with one of their tasty appetizers and feel what the wine tasting culture is all about around here.
Travel back in time with music in Vinyl's Homeplace ''Soul Searching''. A truly unique place for all music lovers and vinyl collectors. This cosy shop will no doubt satisfy the needs of every vinyl addict.
You can listen to Jazz, Blues, Funk Soul, Pop and Rock on one of the classical turntables there (you can also buy one for 250lv!). Among the stacked up shelves with original vinyls, you will find the names of Eddie Taylor, Jimmy James, Diana Ross, Lionel Richie and Isaac Hayes (average price of a vinyl is 15 lv).
It's also a great place to hang out and talk to people who are passionate about music, maybe just as much as you are! Vinyls require you to sit down and experience the sound in the purest version of the recording. Some say it's a special event, almost like a ritual.
The shop often takes its vinyls for a spin on one of their regular events: click here for a list of events
For more ideas, download the Plovdiv In Your Pocket guide >
Events in Kapana
Kapana Fest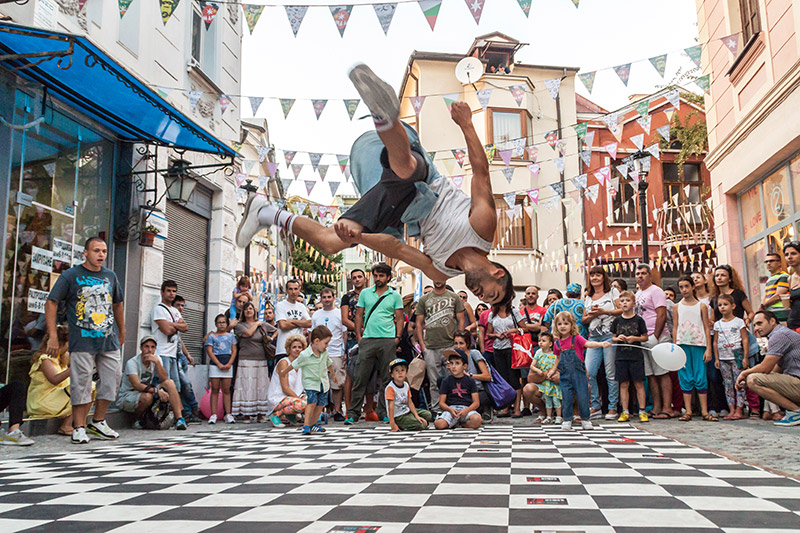 When there's a Kapana Fest, it's the place where everybody in town goes to enjoy many activities, events and concerts. It's a good chance to support and buy from local businesses, craft shops, fashion ateliers, or to simply socialize in the cosy bars and cafes with friends.
Learn more about the Kapana Fest
The amazing transformation of a 5-centuries-old Craftsmen's district
Kapana used to be a popular craftsmen centre over 5 centuries ago when the city thrived in the crafts and trade. Back then it was all about gold, iron, leather and weaving. Now, contemporary creative entrepreneurs have transformed the little neighbourhood into the trendiest, art district in Plovdiv that delights anyone who visits it. The ''Trap'' will no doubt continue to grow and is a must place to visit if you're ever in Plovdiv!
Get to know Kapana even better! Join the Kapana Arts & Crafts tour every Saturday and Sunday to learn more about its creative atmosphere, experience the crafts of the craftsman and explore the graffitti.