Best Places To Stay In Plovdiv, Bulgaria
When travelling to a new country, finding the right accommodation can be somewhat of a challenge, especially if you're visiting the city for the first time. This is exactly why we've gathered some of the best places for accommodation in Plovdiv because we know just how important it is to have that peace of mind and to feel comfortable during your stay. Whether you're looking for a hotel, a hostel or a cosy Airbnb, you'll find that Plovdiv has more than enough options to meet your needs. And with all that checked off your to-do list, you'll have plenty of time to explore the city and all it has to offer.
If you're still searching for great flight deals, take a look at our guide on how to find cheap flights to Plovdiv, Bulgaria >>
Hotels in Plovdiv
Hotels in Plovdiv vary in amenities and price depending on the chain, neighbourhood and season. Hotels are a great choice for families, business travellers and short term guests of the city. Most hotels are generally affordable, close to the centre and come with an included breakfast and other extras such as pool, gym, room service and a bar, plus restaurant.
Holiday Inn (from 126 BGN)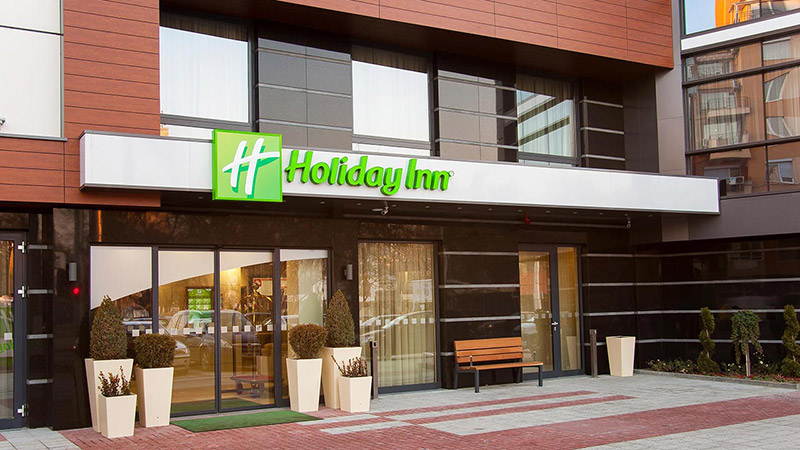 This well-known hotel retains its reputation as a preferred accommodation choice for many tourists and visitors. If you're a fan of prestige, comfort and outstanding service, you'll find yourself very comfortable there. Holiday Inn offers over 67 luxury guest rooms that many visitors refer to as their 'home away from home'. Their breakfasts are simply the best (and complementary) offering a tasty selection of both local and international foods. If you ever find yourself in search of some fine cuisine but don't want to travel too far, you could also try the hotel's restaurant which serves lunch and dinner.
Did we mention the hotel is ideal for business meetings and leisure activities such as sauna, beauty procedures and gym? Holiday Inn is situated at about 20 minutes walking distance from the Old Town of Plovdiv and is also close to the International Fair.
Here's how to get there from the Tourist Information Centre >
Hotel Noris (from 97 BGN)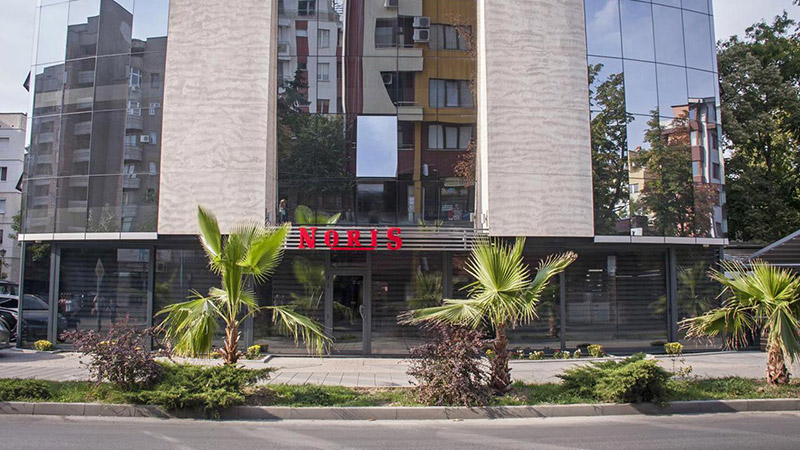 Hotel Noris is yet another popular choice for accommodation in Plovdiv that visitors of the city simply love. The stylish hotel is positioned at a convenient location close to the centre (15 minutes walk). This means you'll have easy access to most of the key sights in Plovdiv and a shopping trip down the main pedestrian street will never be too far.
The hotel itself is very cosy, the rooms are spacious with rather vintage decor and the service is excellent. There is air conditioning in all the rooms as well as a kitchen where you can prepare your own food. Those here on business will find it rather convenient that the hotel also offers laundry service. Other amenities at the hotel include a restaurant, a trendy bar and a lovely summer garden.
Plovdiv Airport is also quite close (10-minute ride) and the staff will gladly arrange a taxi for you at a reasonable price.
Here's how to get there from the Tourist Information Centre >
Imperial Plovdiv Hotel & SPA
If you prefer to bathe in luxury during your stay in Plovdiv, then Imperial Hotel is certainly the place for you. You can spoil yourself in their amazing SPA, enjoy the private garden and fitness or treat yourself to some delicious cuisine at their fine restaurant.
The elegant and comfortable rooms are carefully designed ensuring optimal comfort. They feature LED TV, minibar, individual air-conditioning and free high-speed wireless internet. The hotel also provides a free shuttle service to Plovdiv Airport and to the International Fair. If you want to indulge in some shopping, Plovdiv Plaza Mall is at a 5-minute drive from the hotel. There you'll find amazing shopping options, with many local and well-known international brands.
Here's how to get there from the Tourist Information Centre >
Want something more budget-friendly but still in the centre? Hotel Ego is a great choice for those who'd rather not spend too much on accommodation but still get quality rooms and service.
You can get Plovdiv City Card from our partners!
Sorry, no posts matched your criteria.
Landmark Creek Hotel
Looking for a hotel that will suit your business needs? Well, look no further because Landmark Creek Hotel is just the place for that. The hotel is perfectly equipped for organizing seminars, conferences, product presentations as well as team buildings, lunches, gala dinners and cocktail parties.
This boutique 4-star hotel is located at the start of the Olympic Rowing channel. All the rooms have a panoramic view of the channel or to the swimming pool and the park. The hotel also has a garden restaurant, spa centre, gym and conference halls giving you the perfect balance between business and leisure. Breakfast and parking are complementary and there is access to the rowing canal where you can enjoy a pleasant afternoon walk.
Here's how to get there from the Tourist Information Centre >
Hebros Hotel
This charming 5-star hotel is currently the Travelers' Choice 2019 Winner on TripAdvisor and it also holds a Certificate of Excellence. It's located in the Old Town of Plovdiv and it has a real "authentic Plovdiv" cosy vibe. The Hebros Hotel is housed in a 200-year-old renaissance building. Every room is designed in a different way to make the experience even more unique.
And if you expect anything less from the food there, well let's just say they have an award-winning restaurant where every meal can be a new and exciting culinary adventure. Combine that with one of their many, high-quality wines or even perhaps visit their wine cellar.
Here's how to get there from the Tourist Information Centre >
Hostels in Plovdiv
Hostels in Plovdiv are a budget-friendly option for many backpackers and short term guests of the city. You'll be surprised to know that the hostels in Plovdiv are in fact very good in terms of quality of the rooms and many come with meals included. Not to mention they are super cosy and a great place to meet other fellow travellers. Most of the hostels are located close to the centre so you kind of have all you need in one place.
Hostel Old Plovdiv (from 43 BGN)
Hostel Old Plovdiv is certainly a customer's favourite when it comes to quality, boutique hostels in Plovdiv. The place comes with 8 spacious and super cosy rooms which hardly look like your regular hostel. Everything from the furniture to the beds and the decor has been designed in a Renaissance style and purchased from local antique shops. To make your vacation experience even more authentic, this vintage hostel is located inside a renovated 144-year-old house, right in the heart of Plovdiv's Old Town. Best of all? It's as affordable as any other hostel in the city!
Some features of the hostel include an amazing backyard, terrace, common area, 24-hour reception, free lockers, luggage storage, breakfast, linen, towels, WiFi and ironing facilities.
Here's how to get there from the Tourist Information Centre >
Hostel Central Station Plovdiv (from 42 BGN)
Those travelling by train around Bulgaria (or Sofia-Plovdiv) will find the location of the hostel to be quite convenient. The hostel is actually located on the second floor of the Central Railway Station in Plovdiv and is a preferred choice of stay for many short term guests of the city. It doesn't come with any fancy extras, however, it's cheap, clean, cosy and pretty close to the centre. The service is excellent and you'll find all the basic necessities are included.
The hostel offers a shared lounge, bathroom, free WiFi, air conditioning, private parking, terrace, 24-hour front desk, shared kitchen and ticket services for guests.
Here's how to get there from the Tourist Information Centre >
Funky Monkey Hostel (from 40 BGN)
Funky Monkey is yet another customer favourite and a great choice for travellers interested in architecture, culture and Roman ruins. The hostel is located in Plovdiv's central district, at just about 600 metres from the beautiful Roman Theatre and another 300 metres from the Roman Stadium. Most of the town's main sites are located within walking distance from the hostel so you won't really need transport for exploring the best the city has to offer.
The hostel features comfortable air-conditioned rooms, with free WiFi throughout the entire property. The decor of each room is really interesting, colourful and somewhat quirky. Breakfast is included and it's very delicious and the owner of the place is extremely friendly and welcoming. Car hire is also available on site.
Here's how to get there from the Tourist Information Centre >
Ginger House (from 44 BGN)
Ginger House is a cosy hostel in the centre of Plovdiv offering great service, facilities and budget-friendly prices. The central location of the hostel ensures visitors get the most out of their trip and an authentic local experience. The property is located at about 2 km from the Main Street in Plovdiv (where many of the key sites are) and is also close to 2 major malls. Mall Plaza is at about 2.6 km from the hostel and Mall Plovdiv is another 5 km away and easy to reach with public transport. The International Fair of Plovdiv is just 2 km away.
Each hostel room comes with a wardrobe and the bathroom and kitchen are shared. Guests of the hostel can enjoy a continental breakfast and there is free WiFi. Other features include a 24-hour front desk, airport transfers as well as bike and car hire which are available on site.
Here's how to get there from the Tourist Information Centre >
AirBnB in Plovdiv
Vacation rentals are becoming more and more popular in every country nowadays. You can easily book a luxurious room, studio or an entire flat with just a click and spend your vacation in a cosy, authentic atmosphere that feels just like home.
Architect's Penthouse Apartment (from 91 BGN)
The Architect's Penthouse Apartment has been a top choice for many travellers throughout the years. This luxurious penthouse is a real treat for those who'd rather spend their vacation in comfort and style. The charming apartment occupies an entire loft and can accommodate up to 6 guests. There are a total of 3 bedrooms with 6 beds and 1 large bath.
This beautiful 2-story apartment also offers incredible panoramic views from the south terrace and is at a walking distance from the Garden of Tsar Simeon and the Singing Fountains. The Main Street of Plovdiv is also just next door (2-minute walk) where you can enjoy the incredible variety of shops, cafes, restaurants, bars and attractions such as the Old Town, Roman Stadium, Roman Theatre and Odeon.
Apartment Philippopolis (from 37 BGN)
Apartment Philippopolis is located at just a 10 minutes walk from the Old Plovdiv and the City Centre of Plovdiv. The apartment is very spacious and can accommodate up to 6 guests at a time. There are 2 bedrooms, 4 beds and 1 bathroom. The calm neighbourhood by the Maritsa river is perfect for those like their rest or families with children. Overall great value for money considering the large and spacious rooms as well as the facilities on site. There are many restaurants in the area and a large Bila Supermarket where you can do grocery shopping.
Central Cozy 120 m² apart. (from 50 BGN)
This luxurious apartment is located at a 10-15 minute walk from the city centre in a quiet and charming neighbourhood, close to the Old Town and the Kapana District. Central Cozy 120 m² apart. comes with 2 very spacious bedrooms, suited for 4 people and a large bathroom and living room.
The apartment is great for a few days stay or longer and is very welcoming and bright, with large windows and a stunning balcony with views. The kitchen is well equipped so you can spend time cooking your favourite dishes and the espresso machine is a real treat. The Internet is reliable and fast and you'll certainly grow to love the elegant, yet warm decor.
Cosy Apartment in Top Center. Kapana (from 41 BGN)
This charming little apartment is situated right into the heart of one of Plovdiv's trendiest neighbourhoods – Kapana and is a great budget-friendly option for groups of friends travelling to Plovdiv. Cosy Apartment in Top Center. Kapana can accommodate up to 3 people and is equipped with all the essentials you could possibly need for the duration of your stay.
The building of the apartment was completely restored in 2016 preserving the typical facade of a classical National Revival House. The rental is located on the second floor and consists of a large bedroom, living room, kitchen and bathroom. The living room and bathroom have been completely renovated and there is high-speed Wi-Fi available.
In the Kapana District, you can enjoy an incredible variety of cafes, restaurants, bars, galleries, vintage shops and all things dedicated to the creative industries.
Stylish loft studio with balcony (from 55 BGN)
The Stylish loft studio comes with 2 beds and can accommodate up to 4 people (one double bed and one Japanese couch with tatami). The rental is located in a quiet neighbourhood, not too far from the city centre. The lovely terrace is perfect for enjoying a coffee or a glass of wine at night and comes with some stunning views. There are also 2 bikes at your disposal so you can bike around the city and save a bit of money. The centre is at a 10-15 min bike ride so you can easily explore the city's key sites and attractions.
For more ideas where to stay, download the Plovdiv In Your Pocket guide >>, or search Booking.com with the help of the widget below!
Well, now you know where some of the best places to stay in Plovdiv are. Rest assured your visit will be more than comfortable should you pick any of them. And whatever the purpose of your trip, make sure to explore as much as possible in one of the most beautiful and ancient cities in all of Europe.