Plan Your Trip: Things To Do In Plovdiv For 24 Hours
So, you have planned a one-day trip to Plovdiv? Congratulations, you are about to embark on a colourful journey through the ages in one of the oldest continuously-inhabited cities in the world! There is so much to see (and experience) here that you might feel tempted to stay another night… or two… or a week… But if you have your schedule packed full here some things to do in Plovdiv for 24 hours.
8:30 – 9:00 am: Balkan breakfast
You have a long day ahead of you. So, before you begin, you should gain some strength, Balkan style: with a hearty breakfast. The best option around is banitsa (often endearingly called banichka) and boza. Banitsa is not just a cheese pastry, it is a pillar of Bulgarian culture!
And boza is, according to local lore, the best drink to go with this doughy deliciousness. A good place to go and try a genuine Bulgarian breakfast would be the pastry shop just next to the Hali shopping centre.
9:00 – 10:00 am: Coffee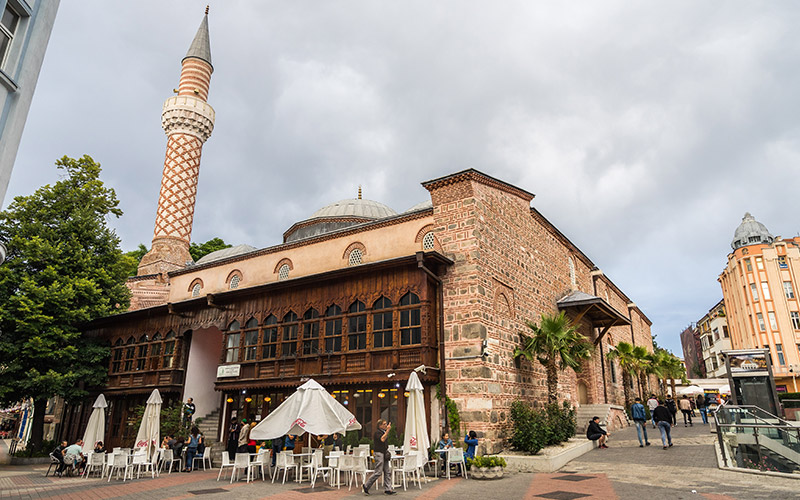 Most people in Plovdiv do not attempt anything before they drink their morning cup of coffee. And this is not surprising: since it was the Ottomans who brought coffee to Europe, it might well be the case that the people of Plovdiv were some of the first to adopt the coffee drinking habit.
The tradition remains to this day. Turkish coffee, Italian espresso or American 'long' coffee: you can find your favourite brewing style in our city. But if you've never tried Turkish coffee before, you can taste it at the Cafe of the Djumaia mosque. And while you're there you can also enjoy some amazing Turkish sweets.
10:00 – 2:00 pm: Plovdiv Old Town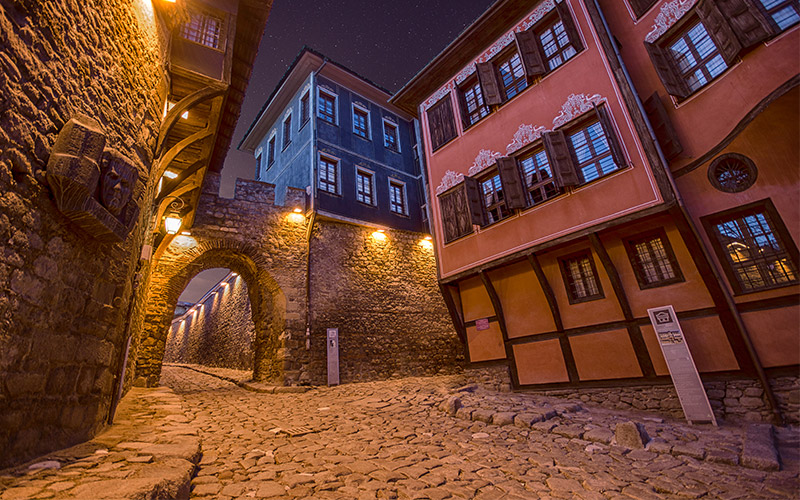 Any local will tell you: the one must-see place in Plovdiv is the Old Town. This is a quaint neighbourhood with cobbled streets, beautiful Bulgarian Revival architecture and awe-inspiring archaeological sites dating back to Roman days. Here you will find dozens of museums, galleries and historical spots to satiate your curiosity and aesthetic senses. Here are the 5 iconic spots that you should fit in your itinerary:
The Ancient Theatre
This is perhaps the most famous monument in town. In the half century, since it was discovered, it has become the undisputed symbol of Plovdiv. It is one of the best preserved ancient Roman theatres, which during the daytime functions as a museum. And if you are in town on a summer night you might actually be able to see a live performance: two millennia after its construction it is still an actively used performance venue. 
With Plovdiv City Card you get free admission to the Ancient Theatre!
St. St. Konstantin and Helena Church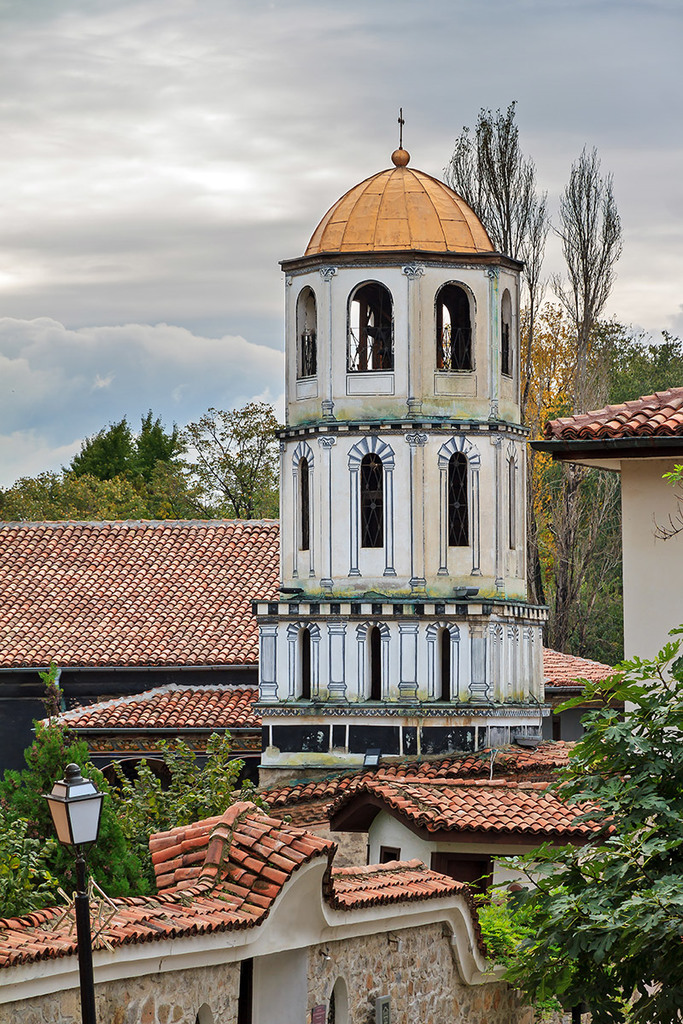 There are many churches in the Old Town. This is one of the oldest and, according to some, the most beautiful of them. In any case, it is definitely one of the best places to feel the strong spirit of Bulgarian Christians, which preserved our nation in the years of the Ottoman rule. Here you will also be able to explore the unique ecclesiastical art and architecture of the Revival period.
The Crafts Street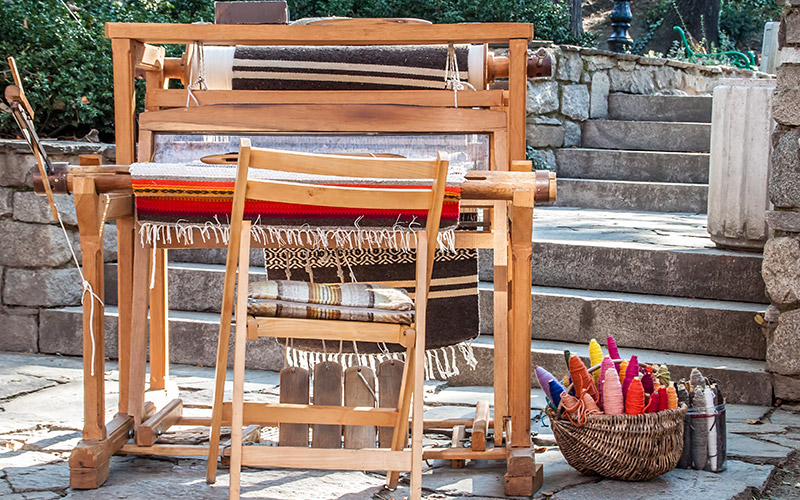 This is a relatively new addition to the riches of the Old Town. The street of crafts, whose official name is "Steep Street" quickly became one of the most curious places in town. Here from March 1st to November 20th, Tuesday-Sunday you can visit the ateliers, and see 'how it's made. Anything from bread, ceramics, traditional musical instruments, woven and non-woven fabric.
Looking for activities related to traditional crafts? Why not try a woodcarving or a glassblowing lesson!
The Ethnographic Museum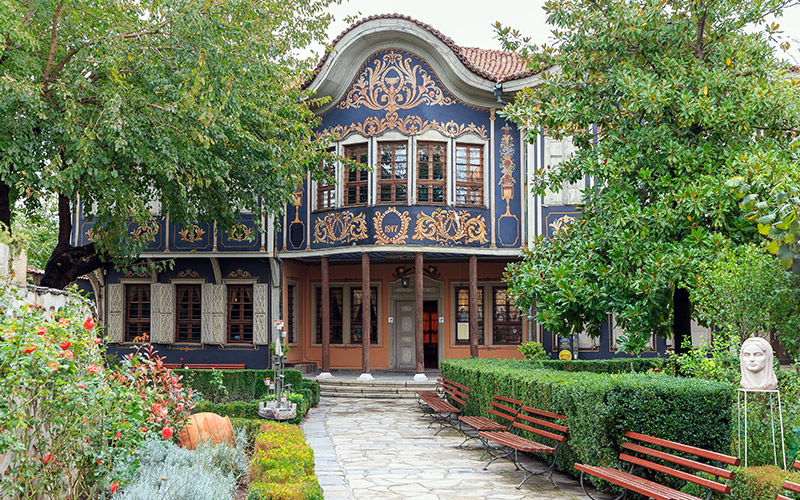 If your visit to crafts street sparked your curiosity for how people lived here in times of old, the Ethnographic museum is just the place to go next! It is located mere meters from Crafts Street and its permanent exhibition includes traditional costumes, old photos of Plovdiv and period furniture. The museum is housed in an authentic Revival period house – beautifully preserved and recently restored.
Nebet tepe – view & photos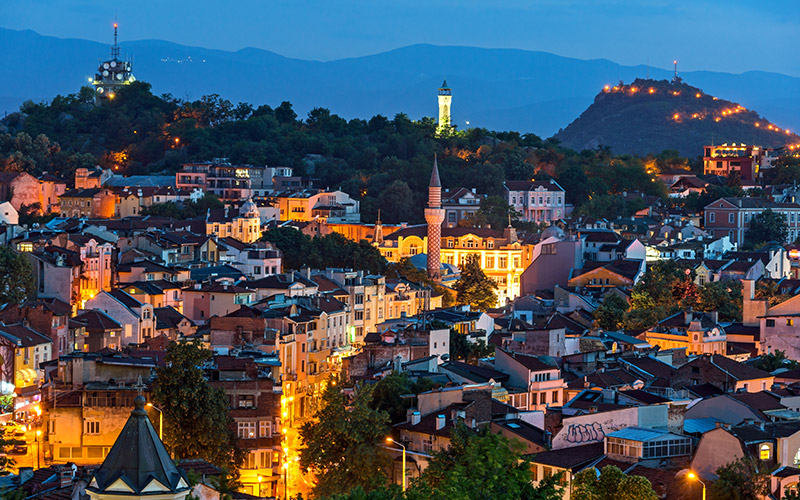 If you still have time and energy before surrendering to your hunger and going to lunch, make sure to climb Nebet tepe – the hill of the old fortress. It is an easy 3-minute uphill walk from the Ethnographic museum. The hill presents a beautiful view over the town and is the perfect spot for panorama photos and getting to know the hills of Plovdiv.
Souvenir shopping
If you are wondering where to find the best souvenirs, the answer is: in the Old Town. On the central street, Saborna, you will find a great number and variety of souvenir and antique shops. There is something for every taste: from the authentic, through the funny to the practical.
Be sure to ask around for rose oil and water. Rosa Damascena oil is one of the most popular Bulgarian souvenirs. You can find little vials of rose perfume encased in traditional decorated wooden cases at a very reasonable price. Kapana is also a good place to look!
2:00 – 3:00 pm: Lunch with a view at Rahat tepe
While you're still on top of the hill, you can enjoy a fine traditional lunch in Rahat Tepe restaurant: a place with a stunning view over the city. It is a rather cosy and surprisingly affordable little tavern where you can enjoy a cold Kamenitsa beer and delicious Balkan food.
3:00 – 5:30 pm: Sightseeing Part II
You have tackled the most important sights by now, so in the afternoon you can indulge in the things you are most passionate about.
For art-lovers
If you are an art lover and wish to get to know local painters, there are many galleries you can visit. Some of the best ones include the Icon gallery (for religious art), the Town gallery (for an overview of Bulgarian art), Encho Pironkov, Di Kiro and Anastas galleries (to get to know modern Bulgarian art and local painters).
For culture-lovers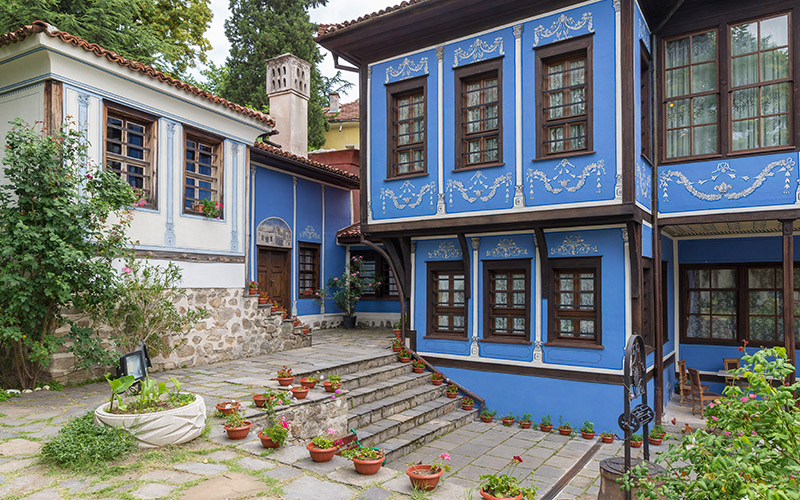 If, on the other hand, you are a person who just lives to immerse themselves in new cultures, it would be best to visit more of the Old Town houses. There are about five Revival houses open to the public, but the two jewels are undoubtedly the Hindliyan house and the Balabanov house.
With Plovdiv City Card you get free admission to the Hindliyan House and the Balabanov House!
For history lovers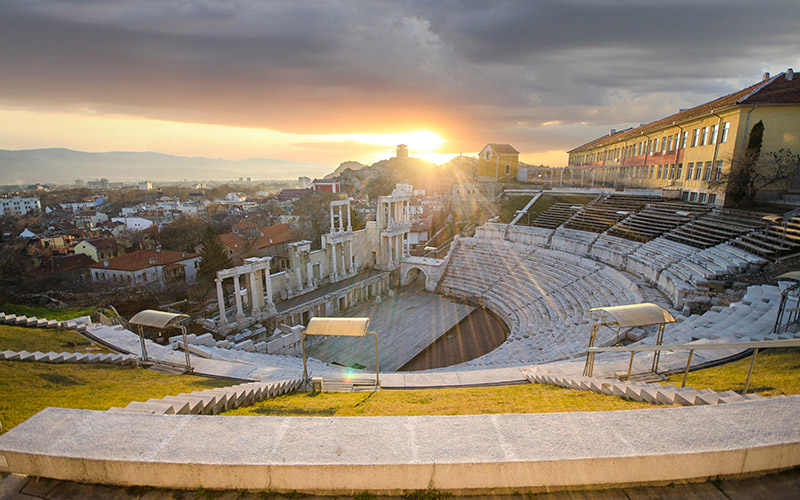 This one is intuitive: if you are a history geek, dedicate your afternoon to the Historical and Archaeological museums of Plovdiv. There you will find all current knowledge about the birth and growth of our ancient town, its transformations and development throughout the ages.
For nature-lovers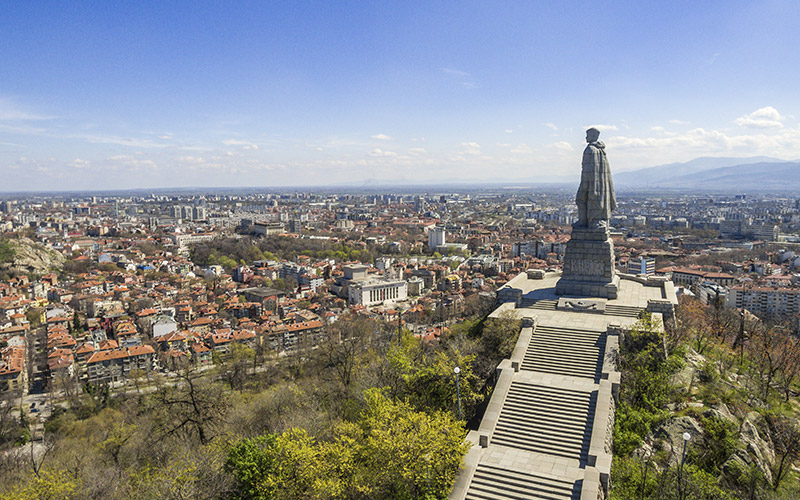 If the morning dose of museums was almost more than you can handle, and the weather is so fine that it would be a shame to waste it indoors, you can reconnect to Mother Nature right at the heart of the city and climb Bunardzhik hill. At the top, you will enjoy a wonderful vista over Plovdiv and meet Alyosha – the most elevated statue in town.
5:30 – 6:30 pm: Sweet-tooth break, Old Plovdiv style
After all these exertions, it is time to replenish your energy and satisfy your sweet tooth in one of the several cafe-confectionaries in Kapana. Going to a sweet shop is the dating classic of Old Plovdiv. So, especially if you are visiting with your significant other, this is an activity you should not miss.
6:30 – 8:00 pm: Main street and Tsar Simeon garden, the Singing fountains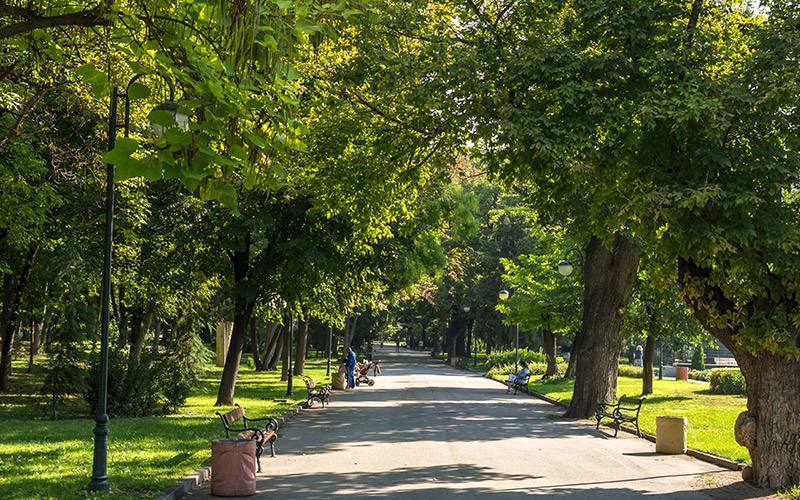 There is nothing better to whet your appetite for dinner, than a nice evening stroll along the main street. At its southern end, you will find one of the favourite spots in Plovdiv: Tsar Simeon garden. This beautiful park is a national pride, designed by none other than the Swiss landscape artist Lucien Chevalas, formerly employed at the Royal Ottoman Court. During the summertime, you can also enjoy the water, music and lighting show of the Singing Fountains, located inside the park.
Want to add to your Plovdiv experience by learning more about the Old Town, Kapana, the main street and the history of the city? You can also join the Free Plovdiv Tour, which is happening every day.
8:00 – 9:00 pm: Dinner with modern Bulgarian cuisine
OK, so you've spent almost an entire day in Plovdiv, you've tasted traditional food and you want to try something new already. There are several places in town where you can try something more modern.
Multi Culti is certainly one of the most interesting places where you can dine in the city. As the name suggests, the restaurant will take you on a culinary trip around the world! There are many unique and modern plates to choose from. 
Pavaj is one of the most popular new restaurants, located in Kapana. There you can select from a small menu of dishes with seasonal products from the restaurant's own farm. Pavaj offers a fresh take on traditional recipes. We highly recommend that you book a reservation before visiting because it's always full.
Smokini is a new place, which is gaining popularity fast. It has a varied menu, with several good options for vegetarians.
9:00-11:00 p.m. Evening drinks in Kapana
For more ideas, download the Plovdiv In Your Pocket guide >
11:00 pm: (and much, much later) Nightlife and party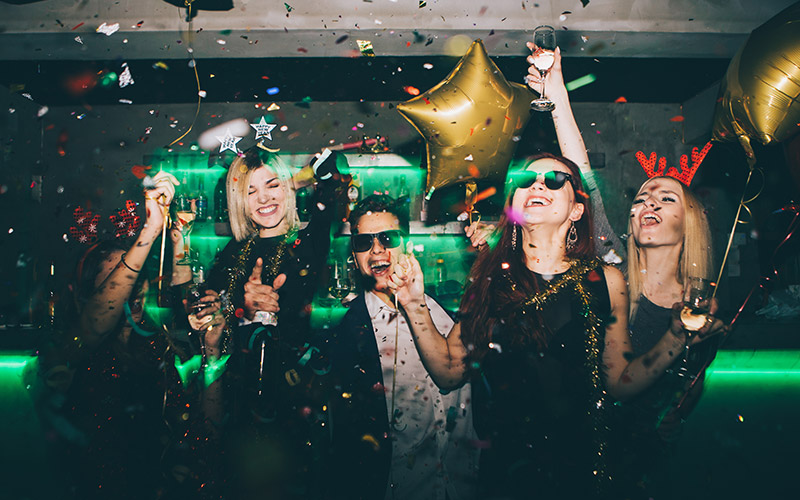 Plovdiv has a lively night scene. There are clubs where you can listen to pop, rock, techno, latino, jazz… So, whatever music you like, it is easy to find a place to have fun in the evening.
Piano Bars
If you prefer popular music, a good choice would be going to one of the several piano bars in town. There you can enjoy a live show with evergreens and newer hits and get a feel of Bulgarian pop music. While the most famous piano bars are Quattro, Gatsby and Sinatra, they are not the only ones. In fact, many bars have stages where local musicians perform covers and original music.
Jazz Music
Lovers of jazz will not be disappointed in Plovdiv. Though jazz can be heard in different places all over town, there are three which stand out: Bee Bop Cafe or Contrabass Bar. There you can hear local performers and sometimes even the most famous Bulgarian jazz musicians.
Rock Music
If you are a diehard fan of rock – fear not, there is a place for you too in Plovdiv: No Sense. Officially called "Music and sports bar", it is a two-floor place where many locals love to hang out at least once a week to listen to good music, watch a sports game or just chill.
As you have discovered by now, seeing Plovdiv in only 24 hours is no easy feat. Be forewarned: even a small taste of the charms of ancient Philipoppolis might leave your heart forever longing to return.