10 Bulgarian Food Classics To Try While In Plovdiv
Traditional Bulgarian food – ever wondered what it tastes like? Let us guide you through some of the best examples. Though it is a small country in size, Bulgaria has 6 distinct ethnographic regions, each with its own characteristic sites, smells and tastes. Piles of mouth-watering colourful vegetables in Thrace give way to delicious potato dishes in the Rhodope, only to be replaced by the Shopski meals – as spicy as the locals' talk. But there are some uncontested classics. Here are 10 Bulgarian food classics to try while in Plovdiv:
1/ The Local's Favourite Breakfast: Banitsa
You may have heard already about this fabled breakfast combination. And it is small wonder: banichka and boza are to Bulgarians just like avocado toast to millennials. Banitsa (or banichka) is a salty pastry consisting of several layers of thin dough sheets and traditional Bulgarian cheese, baked in an oven.
2/ The Notoriously Nutritious Drink: Boza

If you muster the courage to try boza, this will surely be one of your first Bulgarian adventures: a slightly fermented wheat drink with a somewhat funky smell. It has a dark beige colour, slightly sweet taste, and trace amounts of alcohol. What it lacks in appeal, boza makes up for in properties: it is notoriously nutritious and is rumoured to possess magical breast-growing properties (when consumed by women).
If boza is too intense for your personal taste, you can substitute with airyan – a salty yoghurt-based drink. Pastry isn't your thing? Try traditional Bulgarian yoghurt. Flavour it with some berries and honey – delicious and healthy!
3/ The Meat Lover's Choice: Meshana Skara (a mixture of grilled meat)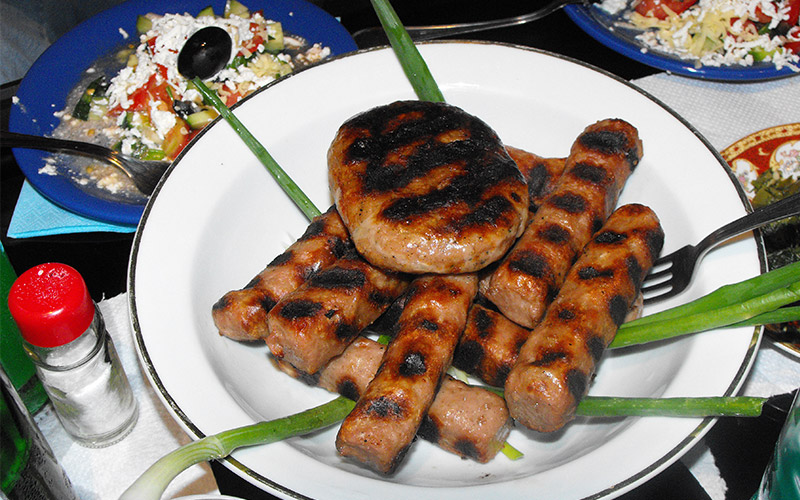 Your next step is the well-loved main course – Meshena Skara. This meal is certainly not for the faint-hearted. It's a combination of (almost) all the wonderful grilled goodies Bulgaria can offer. Though the combinations may vary slightly in different restaurants, it usually includes kyufteta (meatballs), kebapcheta (minced meat fingers), different types of sausages, steak and poultry or pork skewers.
This type of meal goes very well with lyutenitsa – a slightly spicy and indescribably delicious dipping sauce/spread, made from red peppers, tomatoes, aubergines and carrots, and flavoured with special local herbs and spices.
For a good and hearty meat meal, visit Rahat Tepe Restaurant in the Old Town!
4/ A hearty salad to suit all tastes: Shepherd's Salad
Shepherd's salad (Ovcharska Salad) by itself, with its diced fresh cucumbers, tomatoes, mushrooms, peppers, onions, white and yellow cheese, eggs and ham, is enough to feed a ravenous ballerina. For a genuine Bulgarian experience, be sure to dress this salad with ample amounts of olive oil and vinegar.
5/ The vegetarian choice: Shopska Salad 
The obvious starter for a vegetarian would be the famous Shopska salad. It includes Bulgarian white cheese /feta/ (sirene), diced green peppers and cucumbers, red onions, and tomatoes, dressed with olive oil, vinegar and salt. Whether it is truly an age-old tradition or a recipe invented by an ingenious cook during Communist times doesn't really matter, because you can't get any more Bulgarian than composing the national flag in a plate.
6/ A clay pot classic: Shopski Style Cheese
Shopski style cheese includes not only sirene (Bulgarian white cheese) but also tomatoes, eggs and butter. It's typical for this shopski region recipe to be garnered with chilli pepper. Bulgarians cook it and served it in a traditional clay pot, which not only cooks the ingredients to perfection but also mixes and preserves the flavours in a way you will never forget.
This meal goes very well with parlenka – a flatbread seasoned with butter and garlic, usually baked over the embers of a hearth.
This type of soul-warming specialties are best served at The Citizens' Club Restaurant in the Old Town!
7/ Bob Chorba (Bean Soup)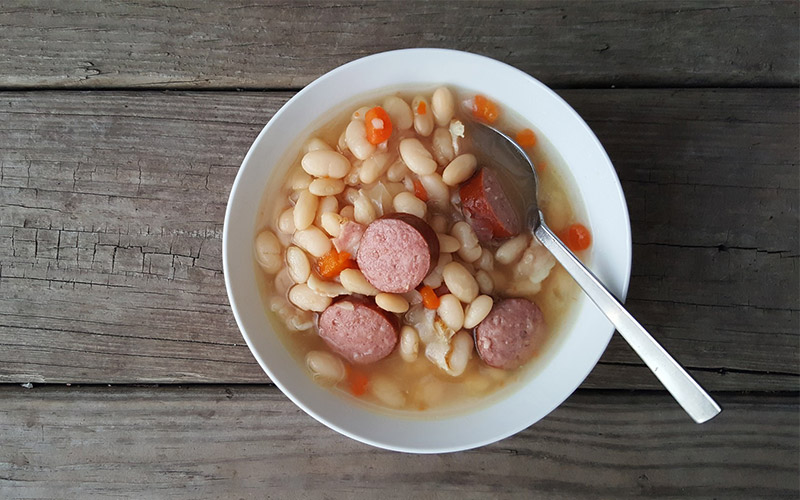 Bob chorba (bean soup) has been one of the staples in the Bulgarian diet over the centuries. Its rich flavour is due to the many traditional herbs used to spice it up. People say the best bob chorba is served at mountain-top chalets, but we'll let you decide… You can have it with or without the nadenitsa (a traditional sausage), so if you're a vegan – this is one of the traditional items you can enjoy without worrying too much.
Cooked in a clay pot, richly flavoured, bob chorba is one of those things that will make you hungry for more! 
8/ The winter classic: Turshia
Bulgarian people have a habit of preserving food for the winter. A tradition from centuries ago, with many recipes, passed down from one generation to another. This fermented jar of goodness is an interesting mix of seasonal vegetables. Locals make it during the fall and then leave it to ferment until winter. To enjoy turshia at it's best, season it generously with sunflower oil or some vinegar.
Turshia also goes really well with the famous local spirit drink – rakia. 
9/ The adventurer's choice: Shkembe Chorba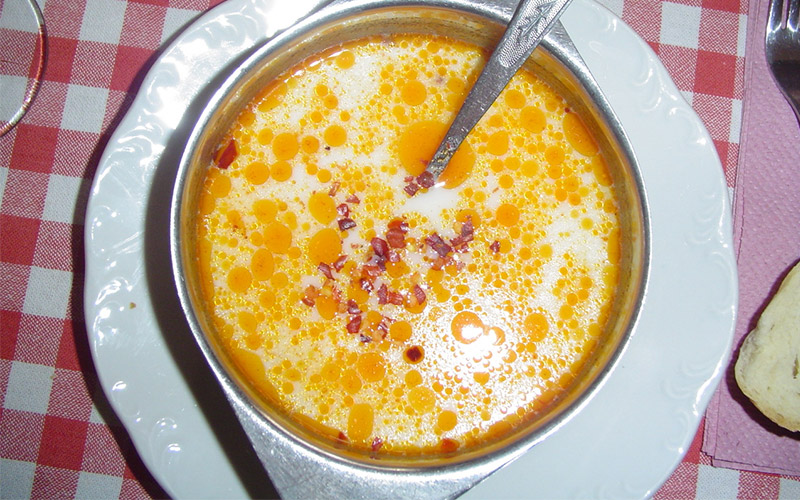 One of the most popular soups in Bulgaria is shkembe chorba (tripe soup). It may sound revolting but you will be surprised how delicious this meal can be when prepared well. It is traditionally garnered with garlic-and-vinegar sauce and as much chilly as you can bear.
Some of the best shkembe chorba can be found at Supa Bar.
10/ A national favourite: Moussaka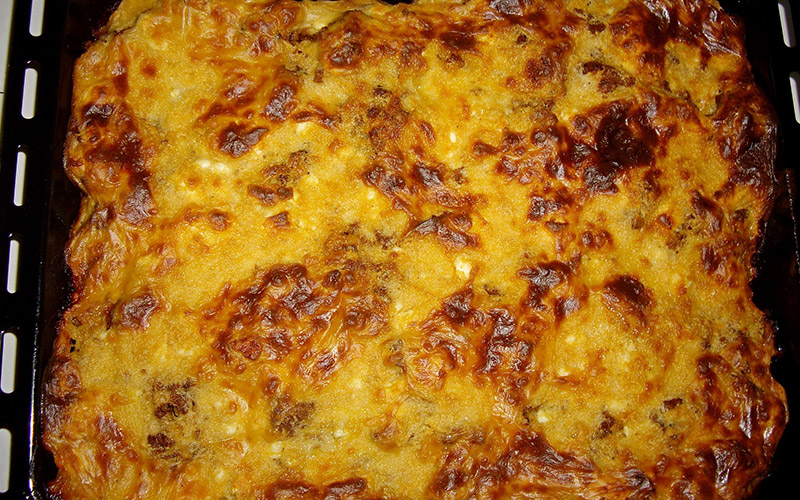 If you mustered enough courage to try shkembe chorba, moussaka will be no problem for your taste buds. This is a nice combination of diced potatoes, onions and minced meat, oven-baked with a topping of eggs and yogurt. Though it is not as intense as shkembe chorba, the combination may be somewhat surprising, when tasted for the first time. As a side dish, we recommend tarator – fresh goodness, made of yoghurt, sliced cucumber and diced garlic.
Congratulations! You're now part of the secret society of Balkan food adventurers! 'What next?' – you may ask. Now that you've had your first bite, you are ready to dive headfirst into the homely deliciousness of Bulgarian cuisine.