5 More Reasons To Visit Plovdiv: The Oldest City In Europe
Our first five reasons to visit the oldest city in Europe weren't enough to convince you to book a ticket? We've got five more things to see and do in Plovdiv which will help you understand why you should put it on your bucket list and visit it as soon as possible – maybe even during 2019 when Plovdiv will be the European Capital of Culture!
1/ Witness the amazing transformation of Kapana District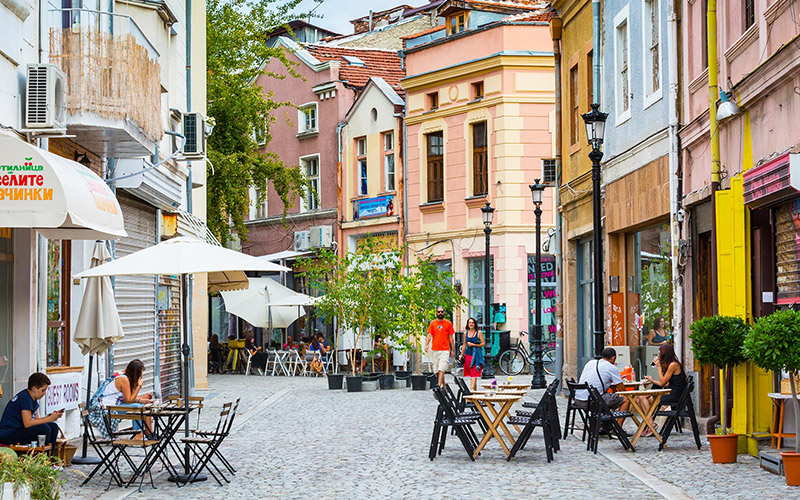 What is Kapana? A lively place full of culture, nightlife and local businesses – it's a 5-centuries-old Craftsmen's district which was transformed into a place for young artists, craftsmen, musicians and entrepreneurs. The once abandoned urban spaces in the neighbourhood are now full of young people socializing over drinks, good music and delicious meals.
During Kapana Fest, the neighbourhood is the place where everyone in town goes to enjoy many activities, events and concerts. It's a good chance to support and buy from local businesses, craft shops, fashion ateliers, or to simply socialize in the cozy bars and cafes with friends. Learn more about Kapana Fest.
2/ Traditional Bulgarian food: a once-in-a-lifetime experience at an affordable price
The amazing taste of Bulgarian food comes down to the unique recipes. They are sometimes centuries-old, sometimes modern and with a twist!
Delicious seasonal food: certain foods and meals are popular only when they're in season – at their best. Our grandmothers and their mothers before them used a simple mix of ingredients and spices (whatever herbs and spices were in the mountains and the veggies they grew in their backyards).
In traditional Bulgarian restaurants, chefs cook the meat specialities the old fashioned way on charcoal using swords or stone plates. They also use traditional red clay pots for many other dishes. Best picks from our traditional kitchen? Try the famous Shopska salad (tomato, cucumber topped with grated cheese), the mixed grilled meat specialities (meatballs, pork steaks, sausages, chicken fillets) or any of our clay pot classics such as beef/pork with vegetables and herbs ( it literally falls off the bone).
For ideas where to grab a bite, download the Plovdiv In Your Pocket guide >
3/ A winemaking tradition that goes back to the Thracian Culture
The Thracians were some of best winemakers in the Antiquity period. And even more interestingly, one of their most honoured deities was Dionysus – the God of wine.
Plovdiv is located in the Southern region which is an official winemaking district called ''The Thracian Valley''. And you can bet there are some really amazing local wines that you can try here.
Bulgarians have long been known across the Balkans for their amazing winemaking skills. The Plovdiv region is famous for Red wine production and is home to the popular local grape – Mavrud. There are at least 20 boutique wineries around Plovdiv and you can find the local grape varieties in almost every shop and restaurant in Plovdiv. Try it for yourself: Vino Culture Wine Bar is a great place in town to try some local Bulgarian wines such as Mavrud and Rubin. They sell by the glass (so you can try a few wines) and have some really delicious tapas to go with it.
If you want to immerse yourself in the experience, why not visit Dragomir Winery Estate?
4/ People of Plovdiv are proud of their ancient heritage and actively take part in the preservation of local traditions as well as the cultural development of Plovdiv
During the bi-annual craft fair, the Main Shopping Street (Rayko Daskalov Str.) turns into a craft centre, recreating the atmosphere of the past. Over 100 craftsmen dressed in traditional clothes, demonstrate the details of their work, sharing the cultural heritage of Bulgaria while preserving its traditions.
The International Folklore Festival
The annual International Folklore Festival gathers together folklore ensembles from all around the Globe. The event is part of the program of the Municipal Foundation 'Plovdiv 2019'.
The Festival is held in the Ancient Theatre in the Old Town of Plovdiv. It's an incredible experience that brings together people from all over the country as well as many foreign visitors.
Wine and Gourmet Parade Plovdiv: an authentic wine festival uniting history, culture, wine and gourmet!
The Wine and Gourmet Parade is a 2-day wine & food festival held annually on the first weekend of May in the charming old town of Plovdiv.
The еvent combines traditional Bulgarian wines and fine cuisine. Over 20 local wine producers show up to present their wines to the public. It's a good chance to see (and try) what the wine culture in Bulgaria is all about.
5/ Plovdiv lives up to its reputation as a Cultural Capital: it has been chosen to be the European Capital of Culture for 2019
There will be more than 300 events in over 70 locations in Plovdiv and the region in 2019. Of these, 90 have already started and have been held in past years, such as Opera Open, Hills of Rock, One Dance Week and the Plovdiv Jazz Fest.
Why was Plovdiv selected? This unique city took lead in the competition against fellow cities – Sofia, Veliko Tarnovo and Varna. Plovdiv had a realistic budget, original ideas and projects, as well as very strong artistic program that will contribute to the cultural development of the region.
The ''Together'' concept – A new and modern vision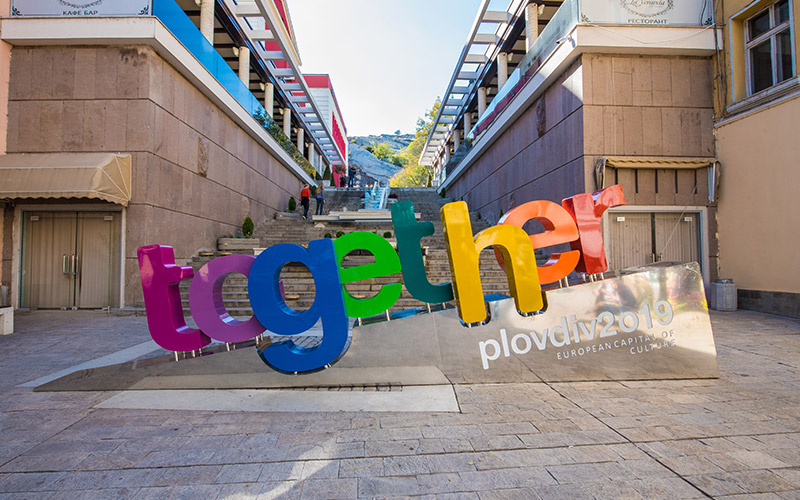 The "Together" concept will bring together people from different generations, ethnicities, faiths, professions. There will be many social projects during 2019 that will engage people in taking part in events.
Transforming urban spaces: A strategy that will rely on new technologies, ecology and healthy lifestyle
One of the projects in the city has already begun – the development of the Kapana district as the first art district in Bulgaria. Plovdiv will also develop several important public spaces. Some of them are the tobacco warehouses with their remarkable architecture, the hills and many others which will be transformed into areas of culture and entertainment.
Last but not least: Our past is our future
Plovdiv will continue to invest in its cultural heritage with new archaeological studies, the uncovering of new sites and large-scale investments in the Old town.
The people of Plovdiv are its heart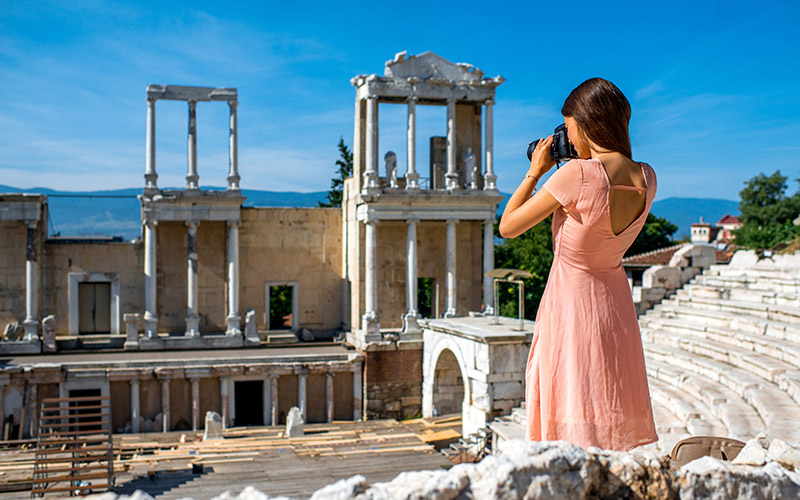 Plovdiv has no doubt earned its spot as a cultural capital of Europe. Its creativity and innovation get a lot of attention and many tourists have put Plovdiv on their bucket list to visit. But it's not just about that. The city captures the hearts of all those who visit it. How? It's a combination of attributes which make Plovdiv such a unique and special place. And it has a lot to do with its people.
There are many more reasons to visit Plovdiv. You can find out more of them by also joining the Free Plovdiv Tour!
The people of Plovdiv are a living, breathing proof of the Bulgarian spirit
Plovdivians have their own special philosophy about life referred to as ''ailqk'' and they actually live by it. It means taking the time to relax and do things without rushing. To simply enjoy the small pleasures of life. A lovely meal, a beer with friends, a leisurely walk, a nice conversation over a coffee or just sun-basking in the middle of the centre. And it's not uncommon for them to do these things any time of the day and even combine several.
So what are you waiting for? Start planning your trip to Plovdiv and make sure it will be an unforgettable experience!