The 10 Best Cities To Travel Solo In Europe
Many people have argued the importance of solo travel. Exploring the world by yourself is often a great way to grow and expand your own horizons through experience. Seeing different cities, cultures and customs that are often so very different than our own, can be an enriching and rewarding adventure we're not likely to ever forget. Solo travel is something that has steadily grown in popularity in recent years, as more and more people embrace the freedom that comes with it – as well as the rewarding gratification of finding yourself in a way, through experiencing so many different and colourful aspects of the world. So, here are the top 10 best cities for solo travel in Europe according to solo travellers!
1/ Zürich, Switzerland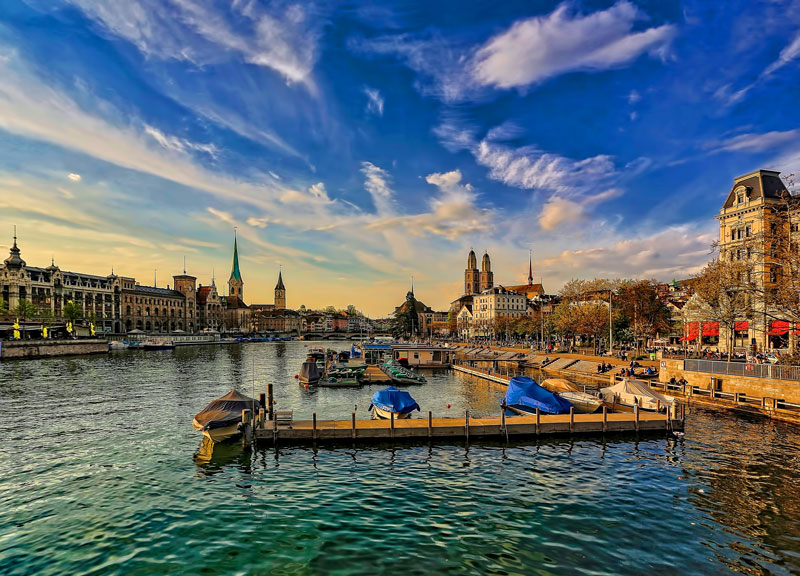 Zürich is amongst the best places to visit in Europe if you're travelling solo. The city's public transport system is so incredibly well developed that you can explore Zurich's museums and landmarks with ease and without the need to constantly worry about getting lost. City bikes are absolutely free of charge and can be picked up and dropped off at the most convenient locations.
If you're planning to travel further and explore more of Switzerland you should consider purchasing a Swiss Travel Pass. There are several different versions of the pass that you can get and it ultimately gives you unlimited access on the network of the Swiss Travel System. The pass is sold for 3, 4, 8 or 15 days and also comes with free entrance at over 480 museums and exhibitions. The convenience of having everything so well organized has helped turn Switzerland into one of the most popular destinations in Europe for solo travellers.
2/ Munich, Germany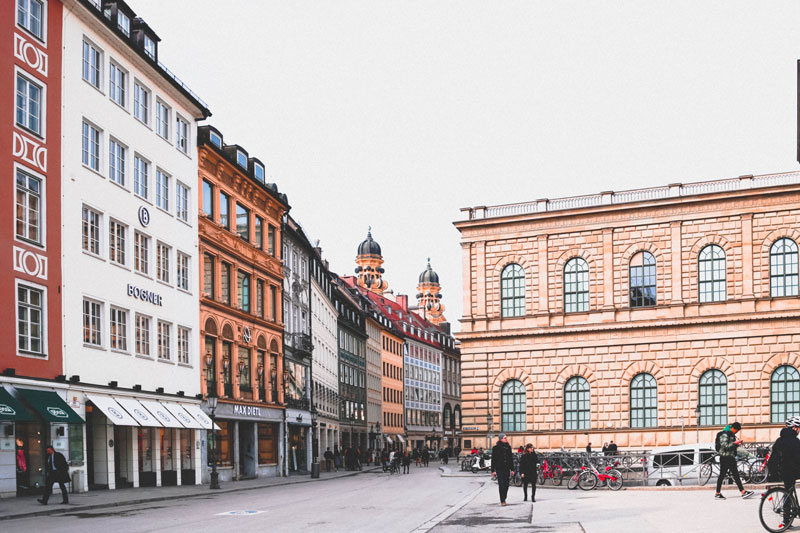 Germany is one of the safest countries on the planet where tourists can freely travel without fear. Munich is very tourist-friendly and it's thought the city is one of the safest places in the country where violent crime is extremely rare. Germans are also known to be quite warm and hospitable people who love sharing their rich history and culture.
Exploring Munich solo can be a very pleasant, memorable experience, especially since the city is not overcrowded – even though there is a steady flow of tourists that visit all year round. Those interested in Munich's rich cultural heritage will surely enjoy exploring its many parks, historical sites and unique architecture from centuries ago. The city's central hub is also a great place to stay as some of the best sites, attractions, restaurants, cafes and bars are all located there. If you stay there, chances are you'll hardly need to take a train anywhere else and you'll still be able to enjoy all the best the city has to offer.
3/ Prague, Czech Republic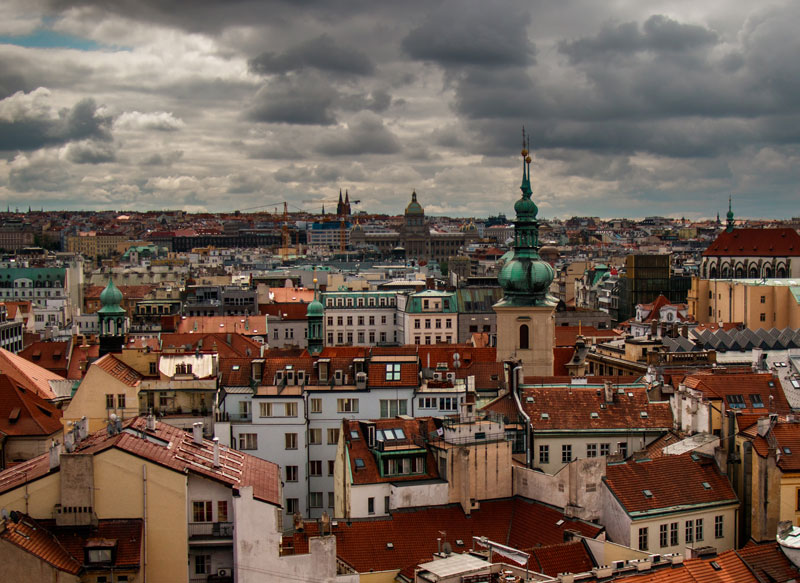 One of the best things about visiting Prague, as most solo travellers will certainly agree, is the fact that many of the city's important sites are within walking distance from each other so it's very easy (and budget-friendly) to get around and see as much as possible! Those interested in medieval architecture will absolutely fall in love with Prague's stunning baroque buildings, Gothic churches and the iconic Old Town Square.
The town's unique look and atmosphere really do make it an exceptional place to just stroll around, take some pictures and marvel at all the beauty. Some great sites to visit in Prague include the Charles Bridge, Prague Castle, the medieval Astronomical Clock (it gives an animated hourly show), and of course the Old Town which is the heart of its historic centre. The city's central square is packed with cool places to grab something to eat and there are plenty of outdoor cafes where you can sit and refuel at any time of the day. After the coffee hours are over, beer is a must!
4/ Plovdiv, Bulgaria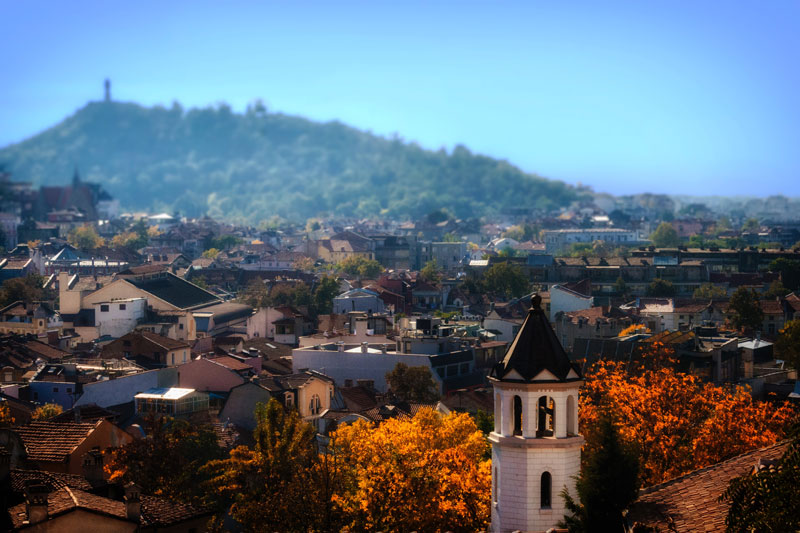 Plovdiv is one of Europe's oldest continually inhabited cities and an absolute gem that many solo travellers have come discover in recent years. One of the best things about visiting Plovdiv solo is the fact that, for its relatively small size, the city is literally bursting with culture, historical sites, sightseeing locations and countless things to do. The locals are very friendly and you'll find that almost everyone speaks English at a decent level. Local venues offer English menus and the town boasts with trendy bars, cafes, restaurants and places for entertainment and culture.
Getting around Plovdiv is also as east it gets. Most of the key attractions and sites are located within the central area so you'll find it's pretty convenient to get around. In fact, the main pedestrian street in the centre happens to be the longest pedestrian zone in all of Europe. The town is perfect for exploring on foot so those of you who like to take their time, do some photography and read up on history as you go will find that Plovdiv is extremely laid-back.
Be sure to check out Plovdiv City Card if you want to explore the city like a true local >>
5/ Copenhagen, Denmark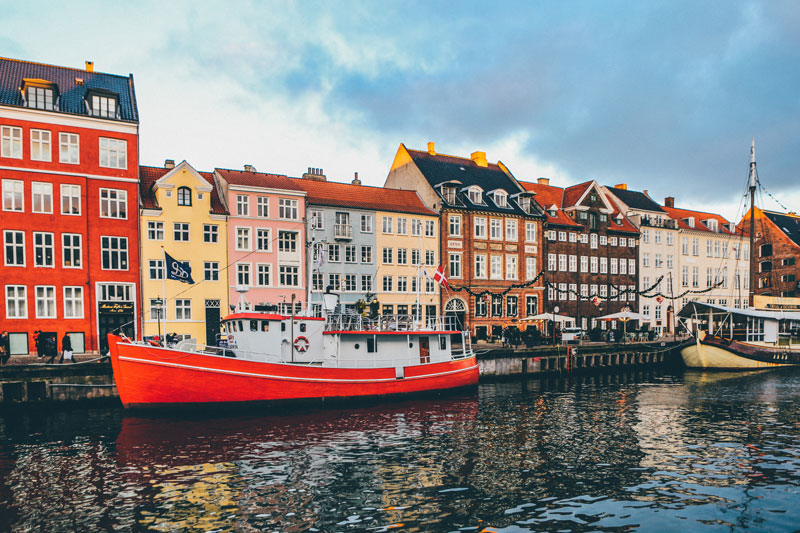 Nowadays Copenhagen has grown into one of Europe's most sophisticated and progressive cities. It's a well-known destination amongst solo travellers and its transportation system is incredibly well organised, allowing you to explore the city with ease. Copenhagen also happens to be one of the most bicycle-friendly cities in the world. This is perhaps why solo travellers find it so compelling since biking around gives you a certain kind of freedom and it's also very inexpensive compared to other forms of transport.
Copenhagen's cityscape is characterized by a charming series of bridges connecting the various districts. Some districts have incredibly stunning (and colourful) houses that are very photogenic. Many travellers prefer to just rent a bike and go cruising through as many neighbourhoods as possible. The city has a nice, calm atmosphere and it's certainly very enjoyable to just bike around at your own pace. Some famous landmarks worth seeing include the Tivoli Gardens, the Christiansborg palaces, the Amalienborg, Rosenborg Castle Gardens and Frederik's Church. Copenhagen is also ranked second in the world on the Global Peace Index and its residents are known to enjoy a very high quality of life.
6/ Dublin, Ireland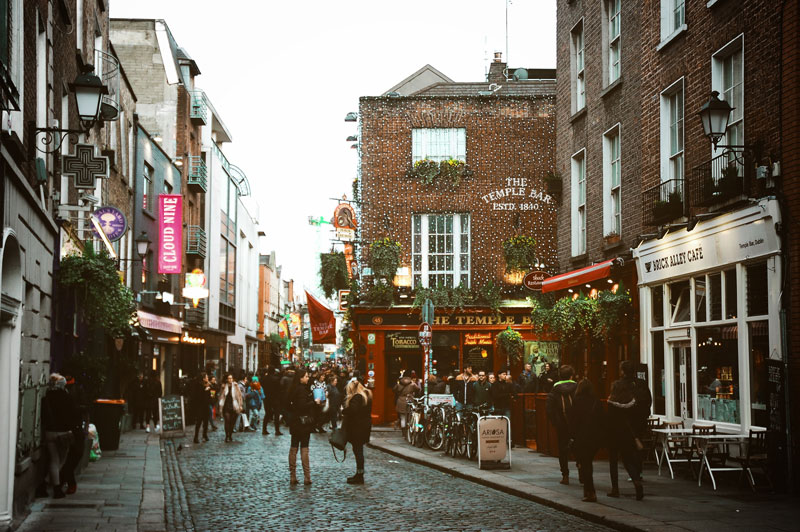 The capital of Ireland is currently ranked as one of the friendliest cities in the world. Travellers particularly like exploring this famously social city alone, as the people there are so genuine, therefore you'll have no problem making friends. If you go strolling around town, exploring the local pubs, coffee shops and restaurants you're bound to interact with locals and chances are you'll never have a dull moment! In terms of safety, Dublin is also considered very safe for solo female travellers. Make sure to visit one of the many pubs in the Temple Bar district, the art galleries or a vintage shop such as the famous Lucy's Lounge.
Dublin was founded in the 9th-century by the Vikings and is full of history and many unique and interesting attractions. Another attractive perk that solo travellers like about Dublin is that many of the city's best museums and galleries are free to enter so those on a budget can enjoy a bit of culture as they go. The National Gallery of Dublin is an absolute must-see free attraction. For great sightseeing experience, you can stroll through town and marvel at Dublin's architecture and houses which are the city's greatest artistic treasure. For more outdoor adventure, visit the National Botanic Gardens.
7/ Budapest, Hungary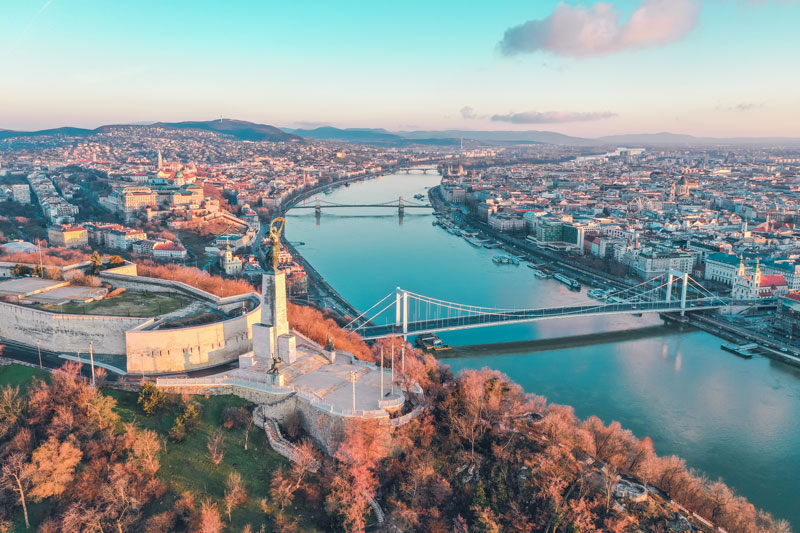 Solo travel in Budapest is quite common and in fact, many travellers prefer to visit Hungary's capital alone, exploring its many amazing sites and wonders as they go. It's worth mentioning that if you are travelling alone your best choice for accommodation is to book a hostel. The reason? One of the perks of hostels is certainly the social aspect. Budapest has a lively social scene and chances are you'll be able to get some useful insight from other travellers as to where the best places to go out are, and what to avoid.
The food scene in Budapest is quite a big deal so if you're not a fan of eating alone at fancy restaurants, you'll be happy to know that street food in Budapest is simply the best! For gastronomical masterpieces visit some local street food spots such as Bors Gastro Bar, Soul Food and Street Food Karavan.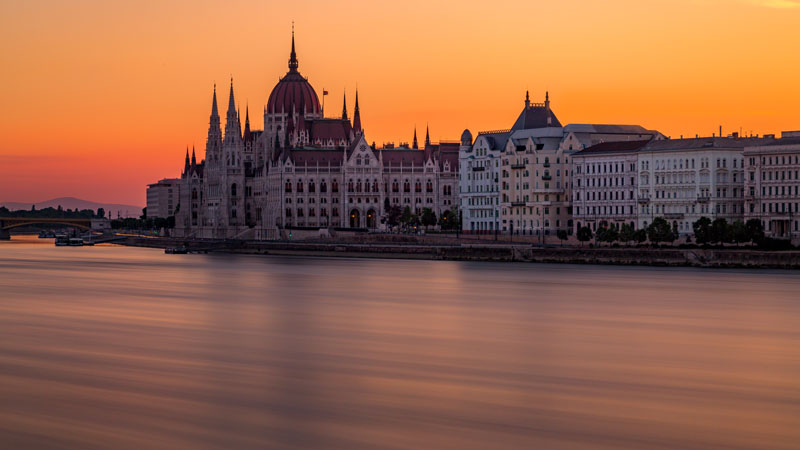 The Hungarian Parliament Building at night is perhaps one of the most beautiful sites you'll encounter during your stay in the city. The Fisherman's Bastion and the Danube Promenade are another 2 great spots to visit and enjoy some spectacular views. Also if you're planning to visit Budapest in the warmer months do stop by one of the city's most prominent attractions – the Szechenyi Baths.
8/ Amsterdam, Netherlands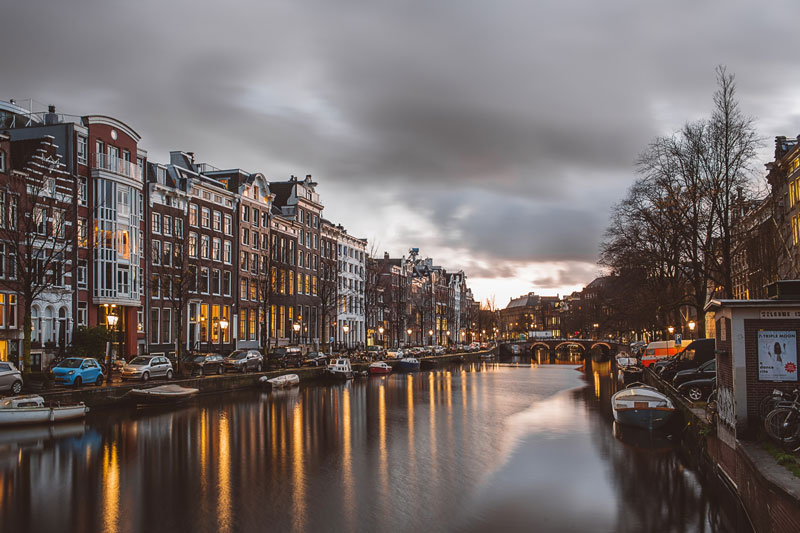 Although Amsterdam's reputation revolves around its laid back vibe, many coffee shops, Red-light district and people generally looking for a good time, it's worth mentioning that this world-class city has so much more to offer than just entertainment. Many solo travellers choose to visit Amsterdam particularly due to its incredibly rich and artistic heritage. There are indeed many beautiful museums and galleries where you can see the works of legends such as Van Gogh, Rembrandt and many others.
The city is also very bike-friendly and you can easily explore much of the centre on foot. The elaborate canal system in contrast with the beautiful architecture does indeed give the opportunity for some very pretty pictures. Amsterdam also famously embraces tourism and travellers are generally treated well wherever they go. There are many great hostels where you can stay, and there are events and concerts happening pretty much all year round.
9/ Stockholm, Sweden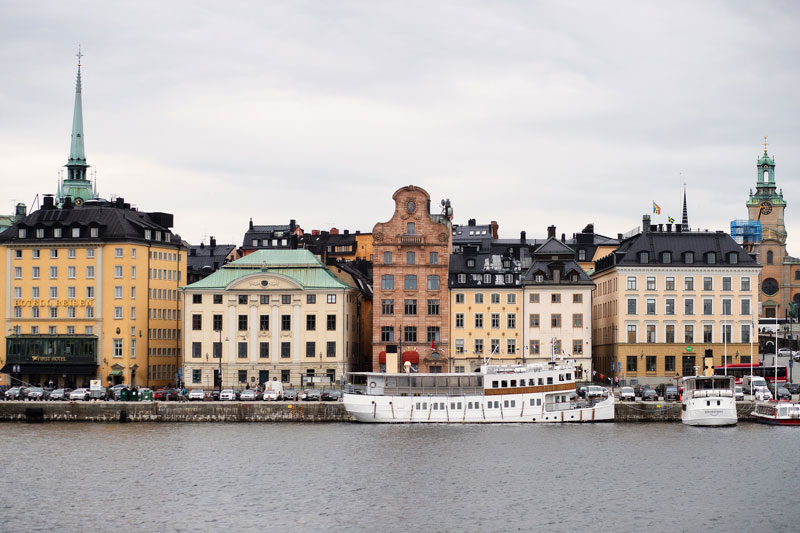 Sweden's capital is the perfect place for a solo traveller who'd like to explore urban city life, all while having the option and access to some more rural areas and nature (without having to travel too far). Keep in mind though that this peaceful Scandinavian dream is anything but boring! The city boasts many lively clubs, bars, cafes, restaurants and the locals are generally very sociable people who enjoy going out.
Make sure to visit Stockholm's famous food halls that offer gourmet traditional Swedish cuisine. For a really unique dining experience, stop by the Östermalm's, an authentic food hall from the 1880s. It's a great place to taste the best of the local food or to just observe people.
10/ Helsinki, Finland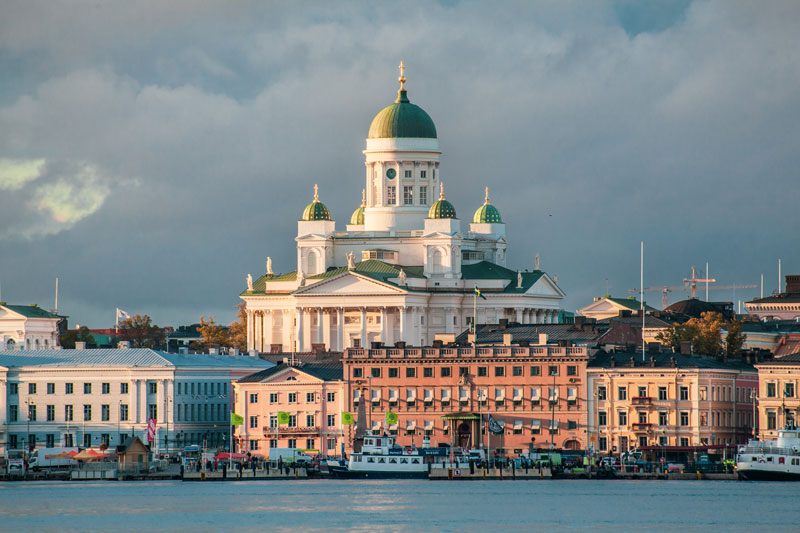 For a cosmopolitan city, the capital of Finland has managed to retain a somewhat small-town vibe and great hospitality, especially when it comes to outside visitors. The crime rate in Helsinki is very low, mainly due to the higher quality of life. The city has a reputation for slow living and is very suitable for solo travellers who wish to take their time as they explore. The transportation system is entirely government-regulated so the chances of you getting scammed as you travel are close to none.
Some of the best things to see while in Helsinki include the National Museum, the Uspenki Cathedral, the Market Square and the Temppeliaukion Church. Another great way to see the best of Helsinki is to walk along the waterfront (the Seaside amble) as there is a trail of over 7 kilometres pedestrian zone that runs from end to end. Even better, during the summer months, you can go on a ride inside a vintage tram. Catch it from the Havis Amanda Fountain at Market Square and for 20 minutes you can enjoy some of the city's best sites!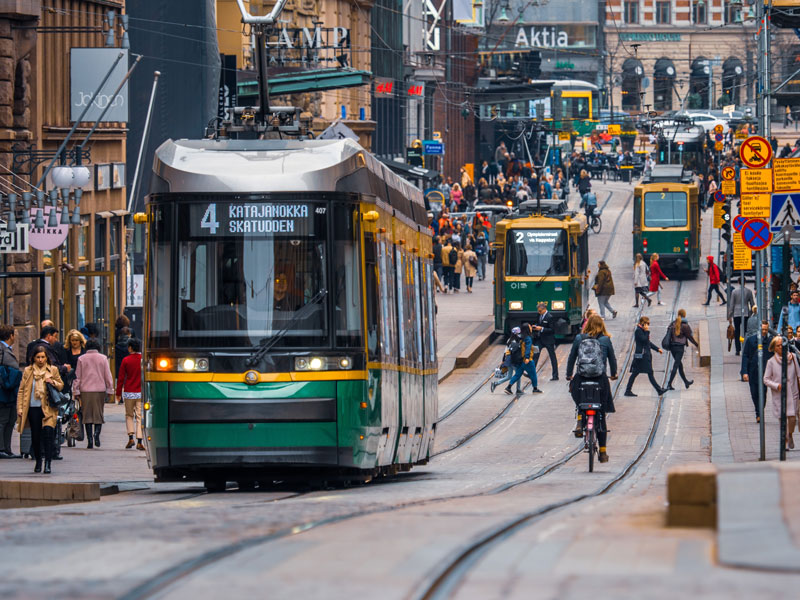 Hopefully, our suggestions have managed to spark the light of your inner adventurer! Europe is a great place to explore and as you can see there are more than enough places to choose from, especially when it comes to travelling by yourself. So what are you waiting for? Your next adventure doesn't have to be far away! And if you decide to stop by the beautiful city of Plovdiv, be sure to explore more of our guides!