Explore Plovdiv Like A Local: Part 1
Plovdiv is a place of culture, life and colour. So are its people – Plovdivians! What makes them so special is their unique philosophy and way of living called "ailyak". To be "ailyak" means to enjoy life as much as possible every day and make time for the simple pleasures in life. Going out for a coffee, taking a long walk, enjoying a conversation with a friend over a beer or just basking in the sun. The secret ingredient to their philosophy? Take your time! There's no point in rushing things you enjoy right? Here's how to explore Plovdiv like a local!
Out for a coffee like a Plovdivian
If you want to feel like a true Plovdivian while in Plovdiv and experience the famous "ailyak" this would be a good place to start. The coffee culture here is based on our love for socializing. Plovdivians love to be somewhere out in the city, walking around, drinking coffee with friends, talking, laughing, enjoying life or as they say just take it easy.
Here are a few of their favourite coffee places to visit:
Raffy Bar & Gelato
This is probably one of the most popular coffee spots on the main street in the centre. During weekends it's crowded with locals who go there to catch up with friends and family and walk around the centre. They offer tasty sandwiches, breakfasts, coffee, fresh juices and ice cream. The seating area outside is very big and a nice place to sit down and relax on a sunny day in the warmer months. 
Here's how to get there from the Tourist Information Centre >
Art News Cafe
Art News Cafe is an artsy, hipster cafe with a warm atmosphere. Locals come here to meet cool and artistic people and enjoy the good coffee. You'll often come across tourists and students doing creative things there like drawing, writing or working on their laptops.
Here's how to get there from the Tourist Information Centre >
Turkish coffee and pastry shop ''Dzhumaya''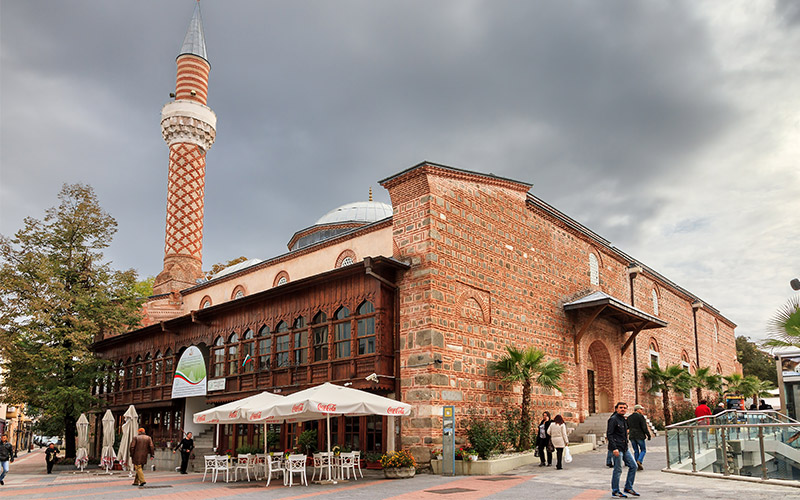 A good place in the centre to go drink some tea, coffee and try a traditional Turkish dessert or pastry. Locals like to sit on this central spot to observe other people and feel the dynamic atmosphere of the city. The coffee is strong but nice and instead of sugar, they will give you sweetened rose water.
Here's how to get there from the Tourist Information Centre >
For a more in-depth look at the coffee scene in Plovdiv, take a look at our coffee-lovers guide to Plovdiv >
Take a walk through Plovdivians' most favourite spots
Even when life gets busy Plovdivians find time for the simple pleasures in life. They enjoy going out for walks in places that make them feel good or have a special meaning to them. It's a way to relieve stress while spending time with friends and family.
The Old Town of Plovdiv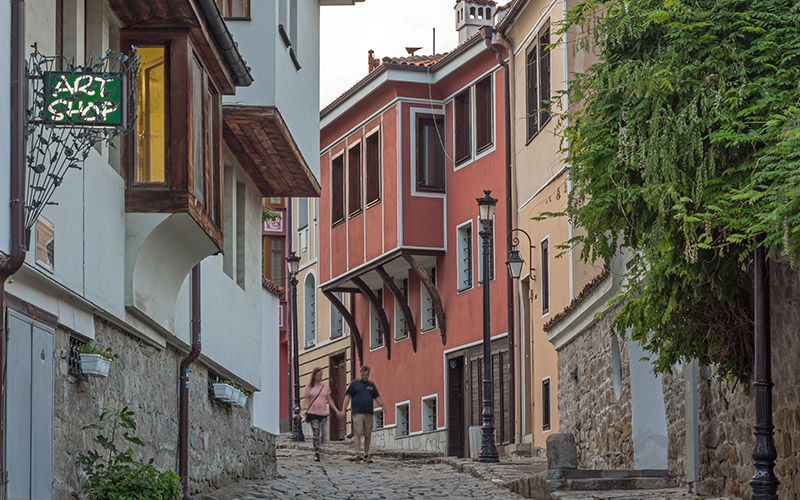 The Old Town has a very special meaning to the locals here. It's where the history of Plovdiv began over 8000 years ago and Plovdivians often walk around the historical reserve just to feel the ancient spirit of the city. The Old Town is often referred to as a ''living museum''. It's filled with galleries, museums, unique, traditional houses from the National Revival era and remains from ancient fortresses of past civilizations (Thracian, Roman).
For more ideas what to do in the Old Town, download the Plovdiv In Your Pocket guide >
Nebet Tepe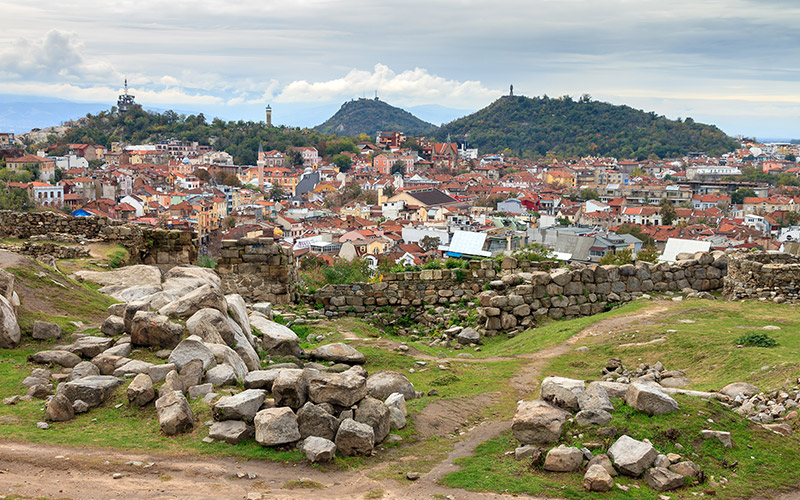 At the top of the Old Town is Nebet Tepe – the birthplace of Plovdiv and one of the city's 7 hills. This is where locals like to hang out in the warmer months to socialize, watch the sunset, take pictures and enjoy the incredible panorama of the whole city. There are remains of fortress walls, towers and ancient buildings from more than 6000 years ago that you can still see there today!
Here's how to get there from the Tourist Information Centre >
The Trendy District of Kapana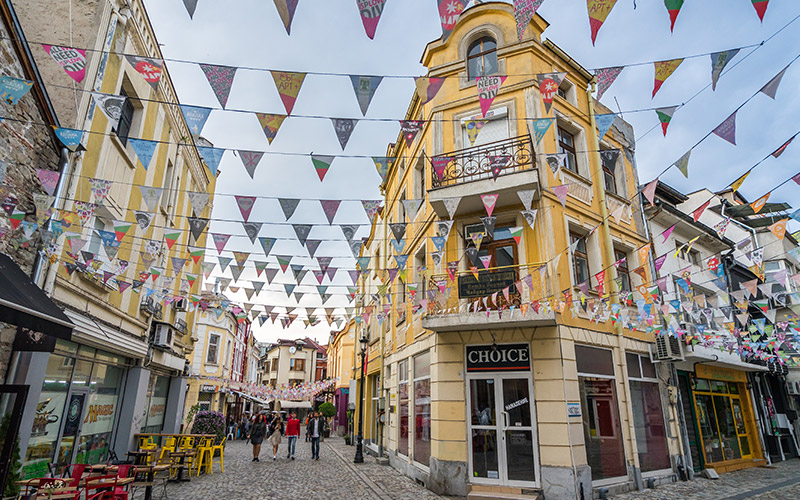 Kapana used to be a popular craftsmen centre over 5 centuries ago when the city thrived in the crafts and trade. 
Kapana (meaning ''the trap'') is the art district of the city where young artists, musicians and craftsmen like to gather. Locals go there to meet friends, enjoy a craft beer, try a unique local dish at one of the restaurants, buy something handmade from a craft shop or to just listen to some live jazz music. 
Here's how to get there from the Tourist Information Centre >
Youth Hill

Youth hill is a very popular spot during the warm months. Plovdivians like to go there to exercise, take a walk with their families and enjoy the incredible panorama at the top. You can literally see the whole city and the surrounding region! The park at the bottom of the hill is also a nice place for picnics, bike rides and just walking around in nature.
Here's how to get there from the Tourist Information Centre >
Grebna Baza (Rowing base)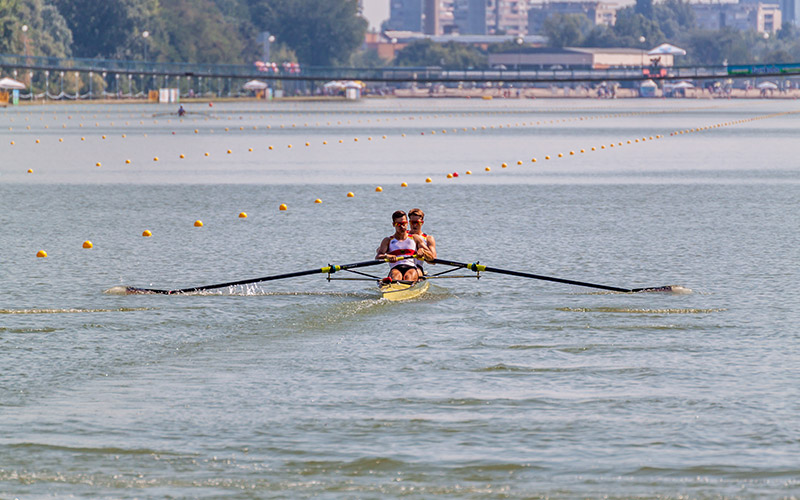 The Rowing Base (or Channel) has always been a prefered place to visit by locals. The long lanes around the channel are great for exercise, riding a bike and long walks. In the warm months (especially weekends) you'd often see locals there just walking around with their friends and families or relaxing at one of the cafes, eating deeply fried sprats (tsatsa) with chips and beer (it's kind of a tradition). Also don't be surprised if you see the local rowing team practising at the base, competitions are often held there!
Here's how to get there from the Tourist Information Centre >
Garden of Tsar Simeon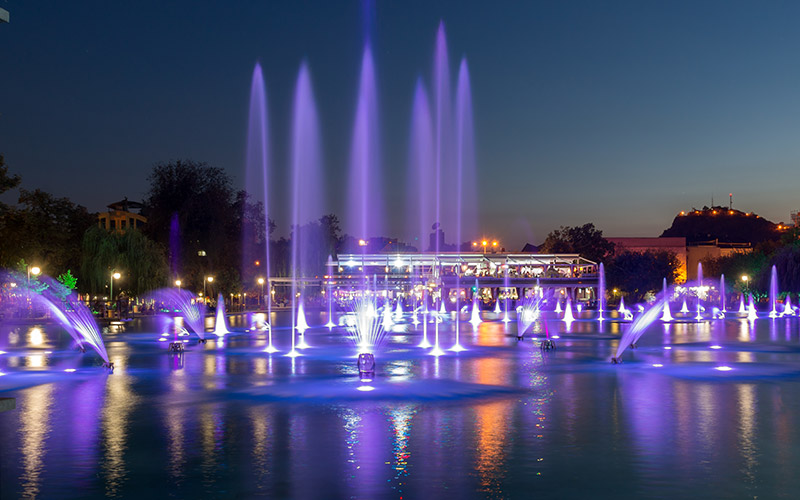 The garden is located at the beginning of the Main Street and it's a very popular spot where locals love to spend time. It has plenty of places where you can sit down and relax, playgrounds for children, long lanes for walks and some really beautiful fountains. The main attraction in the garden is the Singing Fountains. During the summer there are really unique music/light shows there. People gather around them to socialize and enjoy their days off. Another much-visited spot in the gardens for a lot of Plovdivians is Morado Premium Club which is just opposite the singing fountains.
Here's how to get there from the Tourist Information Centre >
Feeling the chilled atmosphere of this amazing city yet? And if you want to know more ways of how you can explore Plovdiv like a local, head over Part 2 of our Plovdiv guide!