Coffee Lovers Guide: Where's The Best Coffee In Plovdiv?
If you've been to Plovdiv before you'd know that the coffee culture is a pretty big deal around here. It's part of the famous locals' ''ayliak'' philosophy – meaning being chill, taking things easy and generally enjoying life. Drinking coffee here is also considered a bonding ritual. The citizens of Plovdiv love to be out and about in the city, socializing and catching up with friends at one of the many cafes. They enjoy a large spectrum of flavours: from rich aromatic blends or pure Arabica to exotic spiced lattes and more! So where are the best places to have coffee in Plovdiv? Find out with us below!
1/ Monkey House
If you are in search of great coffee in Plovdiv, Monkey House is a good place to start. Located in the heart of the Kapana Creative District, this trendy bar serves some of the best coffee in town. There's a nice outdoor area where you can sit and soak in the atmosphere of the city and it's usually pretty crowded with locals who go there to have drinks and socialize. Besides the coffee, you can also enjoy a great selection of homemade lemonades, craft beers and cocktails.
Monkey House is rated #2 out of 13 best Coffee & Tea places in Plovdiv, according to TripAdvisor. We highly recommend their Flat White or any of their delicious daily baked sweets and pastries!
Here's how to get there from the Tourist Information Centre >
2/ Dolce Fellini Pasticceria & Gelateria
This incredible pasticceria takes the number one spot on TripAdvisor as the best place in town to have a coffee! We're pretty sure it has something to do with the authentic Italian made coffee and the delicious pastries, ice creams and desserts. You can find Dolce Fellini located along the main pedestrian street in the centre, just opposite the Hemingway restaurant. Try their Sicilian cannoli with a nice double shot of espresso, you will not be disappointed. Bet you won't be able to resist the macarons, too!
Here's how to get there from the Tourist Information Centre >
3/ Eddy's Cafe and Food
This local coffee shop offers traditional French crêpes, Italian coffee and homemade cakes. They are known for their amazing pancakes, great coffee and nice garden area where you can sit down and relax. Eddy's is the perfect place for breakfast and brunch. What to have with your coffee? Try one of their breakfast crepes with fresh tomatoes and eggs or the banana splash – a pancake with caramelized banana and homemade chocolate.
Here's how to get there from the Tourist Information Centre >
4/ KinoCafe
KinoCafe is a cosy cafe bar locals and tourists can't get enough of when it comes to quality coffee and comfort. It has an overall vintage look, very relaxing atmosphere and is located close to the main train station not far from the centre. So if you're in the mood for some real Italian expresso give it a try and better yet, why not pair that with a slice of French cake? People say it's delicious!
Here's how to get there from the Tourist Information Centre >
5/ Artnews Cafe
This trendy place is the unofficial office for people without an office. That's right! You'll often see tourists and locals working on their laptops or reading at Artnews Cafe. It tends to be a quiet spot, with plenty of plugs and desk space. The internet is pretty fast and the coffee is good. Recommended for digital nomads travelling through or anyone who wants to get a chunk of work done in a cosy cafe environment.
Here's how to get there from the Tourist Information Centre >
6/ Dzhumaya Turkish Coffee, Tea & Sweet House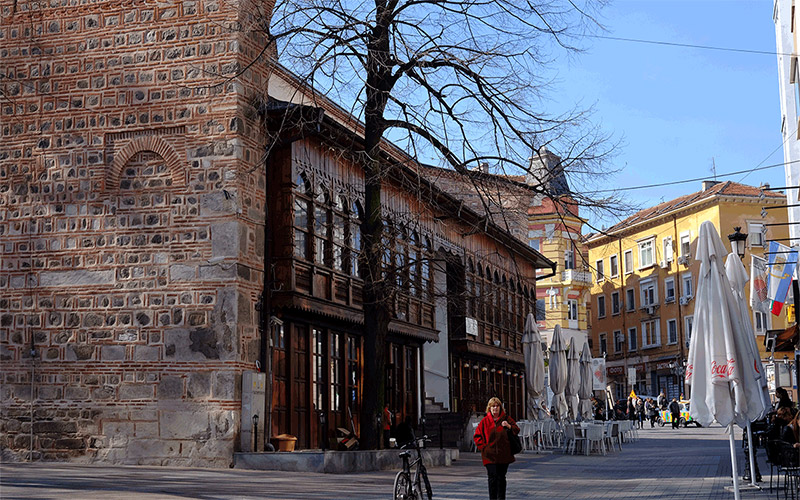 This central cafe is located in the Dzhumaya Square along the Main Pedestrian Street. During the warmer months, it's the perfect place to sit down, enjoy some traditional Turkish coffee and just observe the people passing by. They offer a fantastic selection of Turkish sweets and deserts and along with the coffee you get sweetened rose water!
Here's how to get there from the Tourist Information Centre >
7/ Yes For You
This cute looking venue is a bakery, a coffee bar and a place where you can enjoy freshly cooked food during the weekdays. If you find yourself strolling down the centre and are looking to grab some lunch and a quick coffee, Yes For You is the place. Their baked goodies (both salty and sweet) are simply delicious!
Here's how to get there from the Tourist Information Centre >
8/ Raffy Bar & Gelato
✅ www.raffyplovdiv.bg ⬅ Безплатна доставка за център и широк център при поръчка онлайн ✅

Gepostet von Raffy Bar & Gelato Plovdiv am Mittwoch, 9. Mai 2018
Probably one of the most popular coffee spots in the city due to its central location. You can Raffy it on the Main pedestrian street just next to the Pelican fountain. Locals love to hang out there during the summer, just sitting outside and socializing with friends and family. The coffee is great and they offer some tasty sandwiches, breakfast and brunch options, fresh juices and ice cream.
Tip: Don't miss their salads, pure deliciousness!
Here's how to get there from the Tourist Information Centre >
Prefer to have a meal with your coffee? Here are a few really good places in Plovdiv where you can enjoy a delicious meal while you refuel:
Restaurant Gluharcheto is a cosy little restaurant in the centre where you will always feel welcome. They have a very interesting selection of fresh and interesting dishes with a modern touch. Multi Culti is located right at the heart of Plovdiv's favourite creative district Kapana and it will take your taste buds and imagination, hand in hand, on a culinary trip around the world.
Now that you know where the best coffee spots in Plovdiv are you can join the coffee culture here like a true local.  And don't forget that coffee goes best with a delicious sweet treat!