A Day Trip Outside Plovdiv: 5 Must-see Tourist Attractions
Looking for exciting new places to visit on a day trip outside Plovdiv? The list is long since Plovdiv is one of the oldest cities in Europe. Naturally, the remains of ancient cultures such as Thracian and Roman who once populated the lands can still be seen in many places in the region today. Unique archaeological excavations, medieval castles, monasteries, mineral springs, and natural reserves are all part of our cultural heritage.
The whole Plovdiv province is full of wonders just a car ride away. So stay with me as I take you away on a journey through the ancient and beautiful lands of Bulgaria.
Here are 5 spots in the region that are simply perfect for a day trip outside Plovdiv!
1/ Bachkovo Monastery
The Village
Bachkovo is a village in the heart of the Rhodope mountains, just 20 km away from Plovdiv. Hop on a train or take a car ride (less than 40 minutes) and explore it because it has more than one story to tell and it's perfect for a day outside of the city.
The walk from the parking lot to the monastery is a colourful experience all in itself. You can buy Bulgarian handcrafted souvenirs, local herbs picked from the mountains and delicious homemade honey or jams.
Don't forget to stop by one of the traditional Bulgarian restaurants and try our famous grilled meatballs and shopska salad. Combine that with a cold beer and you will have a genuine Bulgarian meal.
The Miraculous Icon of the Virgin Mary
At the end of this colourful road is the Bachkovo Monastery. When you enter the courtyard be sure to check out the panoramic mural. It gives a great bird view of the monastery and its surroundings.
The most intriguing aspect of the monastery is the Cathedral, where the miraculous icon of The Virgin Mary is kept. Some say she has the power to cure the sick and help the childless.
Such is the story of Stefan, who often travels a long way to visit the monastery and pray. He claimed that when he was diagnosed with cancer 10 years ago, the doctors told him he had no chance of surviving. Hearing about the icon he visited the monastery on Easter when it's thought to be most powerful. His prayers were answered and his cancer never returned.
If you want more of this mystical adventure, you don't even have to look for a hotel. You can stay in the monastery overnight for 10 lv per bed (at just €5 / $6, which is as much as a salad or a sandwich).
The Red Wall Reserve
And if you wake up feeling rejuvenated, go for a hike in The Red Wall Reserve, just opposite the monastery. You can go all the way up to the small church in the rock where the miraculous icon was first found, have a picnic at the river bank or simply explore nature. The reserve has many paths, waterfalls, springs and rare species of animals and plants.
Here's how to get there from the Tourist Information Centre >
2/ Asen's Fortress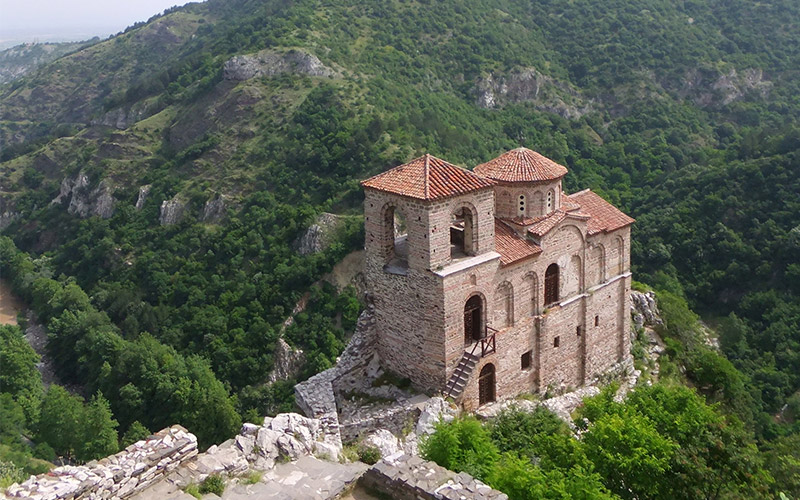 Get a taste of Medieval times in one of the best preserved middle age castles in the country. Asen's Fortress is just a short 10-minute car ride from Bachkovo and a 40-minute ride (20 km) from Plovdiv.
Yep, it's a great trip for families with kids who will love the adventure and the history lessons! If you feel like taking a walk, leave your car at the bottom of the road and hike to the top in just 30 min – the panorama is worth it!
The rocky cliff on which the castle was built makes it untouchable from all sides and is why it was so important to Bulgarian leaders. Many great battles were fought there. During the Third Crusade, the fortress was captured by the Crusaders, but after the battle of Klokotnitsa, it was taken back by the Bulgarians.
King Ivan Asen II put a lot of effort into repairing, restoring and maintaining the castle, which is why it carries his name. 
Tickets cost between 2-4 lv which will hardly put a dent in anyone's budget!
Here's how to get there from the Tourist Information Centre >
3/ Belintash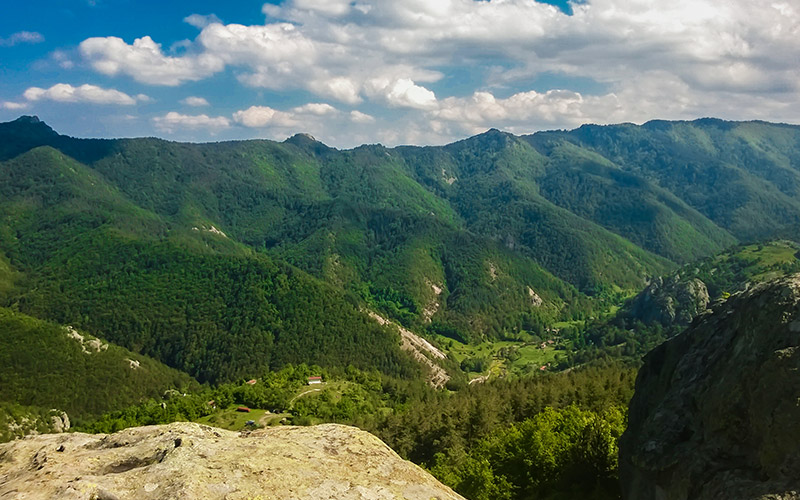 Belintash is an interesting landmark at a 1h 20-minute car ride from Plovdiv (50 km). It's one of the most mysterious places you can visit on a day trip out of Plovdiv.
It's assumed that Belintash was a cult site for the Thracians who once inhabited this part of the mountains, using it as a sanctuary for worshipping their gods and performing rituals.
A lot of people visit the site since it's considered to be a very energetic place. They say that the Thracian God (Sabazios) who was once worshipped there will purify and heal their bodies if they lay on the rock. 
The high, above sea level position of the rock, gives a jaw-dropping bird's eye view of endless mountains and valleys. A good place to sit down and meditate.
Here's how to get there from the Tourist Information Centre >
4/ Starosel
Starosel is a village in central Bulgaria about 50 km from Plovdiv (a 50-minute car ride). The village has a Wine and Spa complex ranked as a favourite among local visitors and tourists (rated 4.0 on TripAdvisor). If you're looking to have a unique Bulgarian experience, with quality accommodation at a reasonable price, the complex is an excellent choice for a gateway.
Sip on some quality, local wine from the winery inside the complex or relax by one of the mineral pools. You can also try a massage or a sauna in the spa centre. Sounds divine, right? And it gets better! The resort's restaurant has some fine cuisine, all made from local dishes. This is a good chance to try some of our traditional Bulgarian specialities!
While in Starosel, visit the Thracian underground temple and tumulus which are not far from the complex (just 4 km away). They contain the oldest royal Thracian complex ever found with a mausoleum. It dates back to the end of the 5th and the beginning of 4th century BC.
Who says you can't combine a luxurious spa day with some ancient history?
Here's how to get there from the Tourist Information Centre >
5/ Hisarya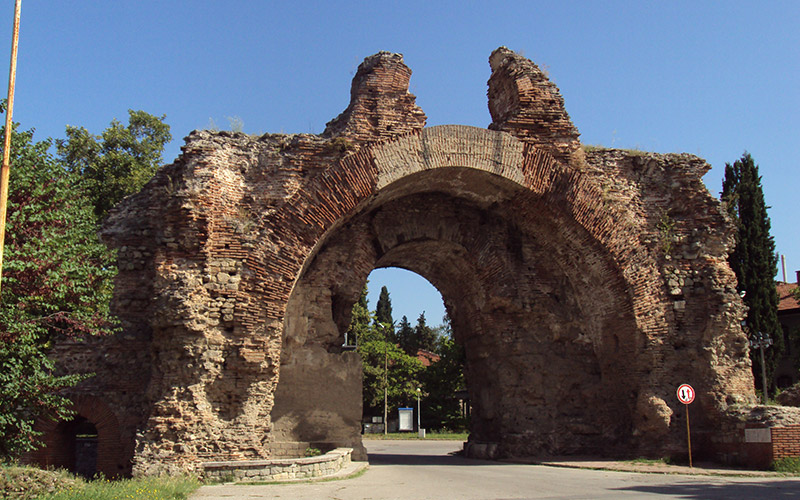 Longing for a spa day? If so, you can visit a town that was once an ancient Roman spa resort. Hisarya is a symbol of tranquillity for visitors and tourists due to its many healing mineral springs, historic ruins, and calm atmosphere. And it's just a 50-minute car ride from Plovdiv (45 km).
Start with a slow stroll in Park Orpheus dol. It's full of greenery and ancient fortress walls from Roman times. While there, visit Momina Banya which is just next to the park. The hot mineral spring of 45 degrees Celsius is amazing.
Today much of the central part of Hisarya has been transformed into an archaeological reserve. The Archeological Museum which is at a walking distance from the park is a great stop for the lovers of history. The museum's exhibits are from Prehistoric, Thracian and Roman times. You can see Thracian Bronze coins, Greek ceramics, and coins minted in Thassos. There are some valuable artefacts such as the marble lion's head fountain.
Some much history will surely make you hungry, right? The cosy pizza place Toksana is a nice stop for a quick lunch and coffee. And if you feel like something fancier, Hotel Gallery is just next door.
How about calling it a day with a nice spa treatment over at the Sana Spa hotel or Spa Hotel Augusta? Both have an amazing spa centre and great service. Just take your pick! Try the outdoor jacuzzi, hot thermal mineral water pools or the fabulous steam baths / Turkish baths.
Here's how to get there from the Tourist Information Centre >
Now that you've learned about Plovdiv and the region, you can start planning your day trip outside Plovdiv!