Let's Have Some Fun In Plovdiv: Your "To Do" List
You've picked Plovdiv for your next vacation and now you are looking for some activities to add to your daily programme? Here are some fun things to do in Plovdiv that will certainly make you fall in love with this charming city – from bowling to shopping and beyond!
1/ Enjoy some go-kart racing at Lauta Karting Track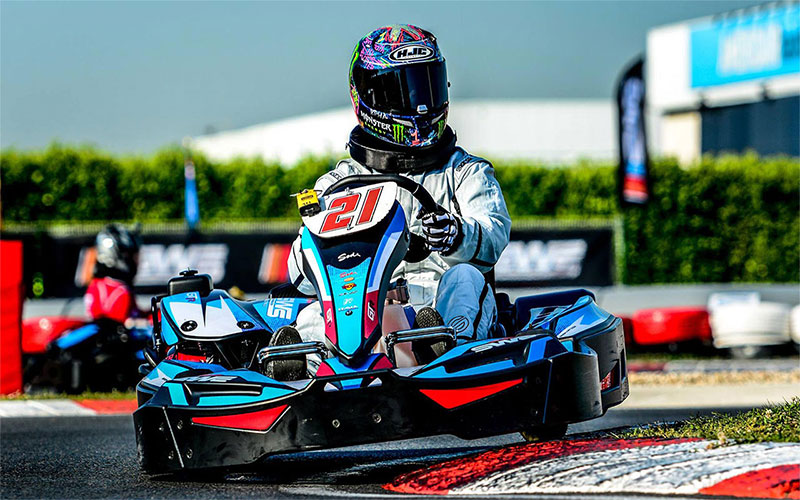 Looking for something to get your adrenaline pumping while in Plovdiv? Visit Lauta Karting Track and have some fun doing laps around the 870-meter track. The track is very well run, operating with the faceracer recording system that is used by many tracks around the world. In the week it's normally not busy so it's possible to have the track entirely to yourself! It's a great way to spend an afternoon by yourself or to challenge your friends to a race. If you're a pro you can qualify and move up to the faster and more upgraded karts.
2/ Get active at the Rowing Channel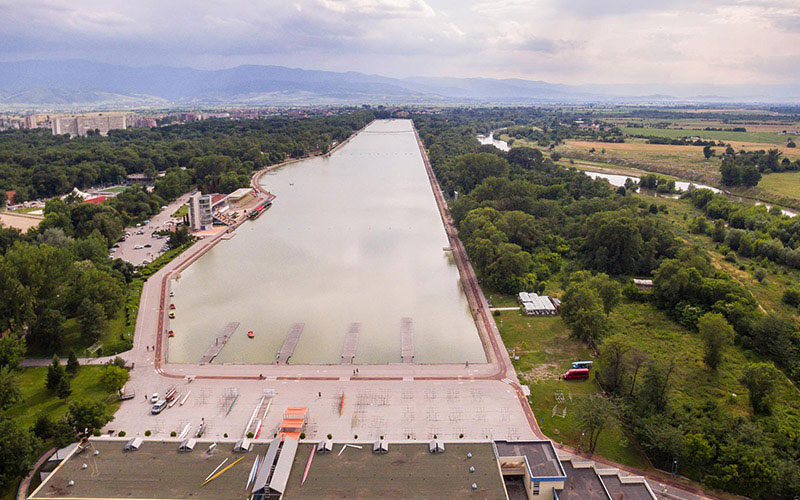 The Rowing channel (and base) are one of the most popular places in town. Locals love to come here to exercise, do all kinds of sport (ride bikes, enjoy some roller skating…) and just generally spend time with their friends and family. This is the largest facility of this kind in the Balkans, where rowing competitions are often held. In fact, you'll often see local teams practicing at the base. The channel is 2 200 meters long so you can certainly break a sweat here and have some fun.
3/ Go on a puzzle-solving adventure at Gravity Wave Escape House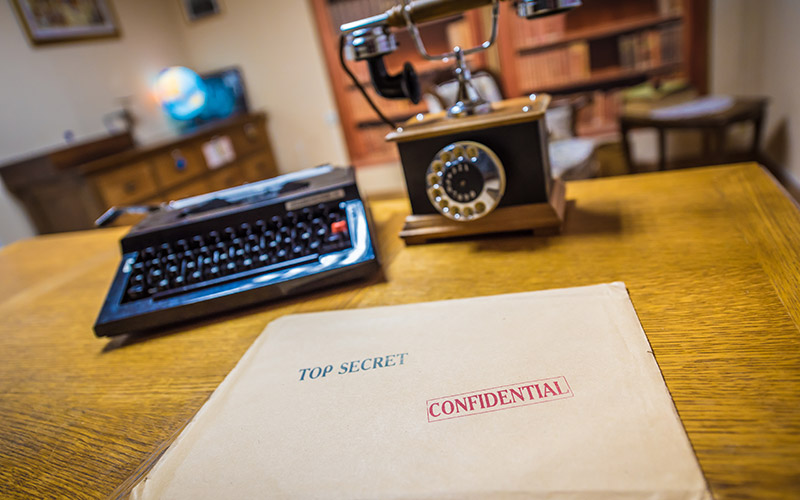 If you'd like to test your puzzle solving skills visit Gravity Wave Escape House in the centre of Plovdiv. You will have 1 hour to complete the ''Einstein Study'' challenge (while being locked up) with your friends or family.
The ''Einstein's Study'' room was inspired by the confirmation of Einstein's theory that gravitational waves exist. Most people complete the puzzle challenge within an hour and the overall experience is super fun for people of all ages!
4/ Test your Karaoke skills at Club Marmalad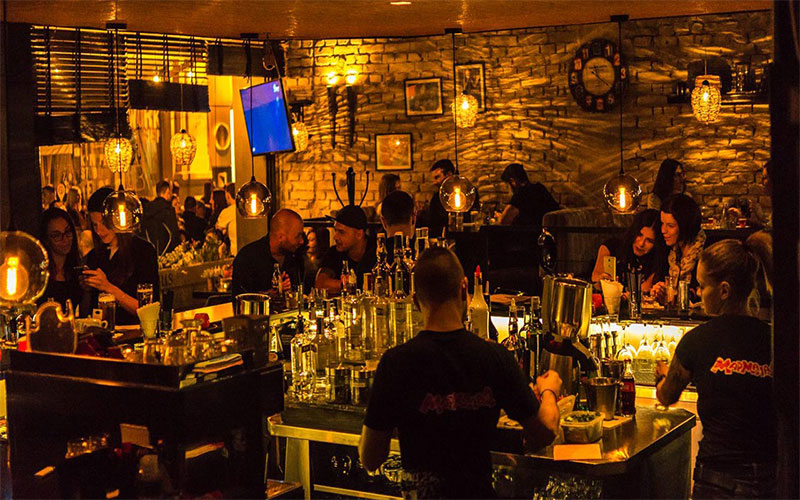 Club Marmalad is a very popular venue located in the centre of Plovdiv. Apart from being a regular bar and coffee place (during the day), the venue often hosts karaoke nights (every Friday night), parties and live music shows with local bands. You can spend a fun evening here with friends or family while enjoying a great variety of drinks and dishes.
For reservations: +359 898 653 753, Entry fee for karaoke night costs 12 lv.
Explore the places in this post:
5/ Go dancing at a local Paino Bar
Plovdiv has a few piano bars where you can dance the night away while sipping on a refreshing cocktail or a glass of wine.
If you prefer something truly high end, Piano Bar Sinatra is the place for you. The music is great, there are regular guest appearances from famous local singers and the highlight of the bar is something truly fascinating. You'll be served drinks by singing/dancing waiters! There are some unique selections of drinks and whiskeys that you're not likely to find anywhere else in the city. You can find the piano bar located on the top floor of the Princess Ramada Hotel in the centre of the city.

Another great option is Quattro Piano Bar – this is your place if you wish to experience the best in terms of quality service. It was the first in Plovdiv and you can see some of the best musicians in town there. Experience the pleasant atmosphere, affordable prices and many memories to be made!
6/ Climb up Youth Hill to get a bird's eye view of the entire town and the region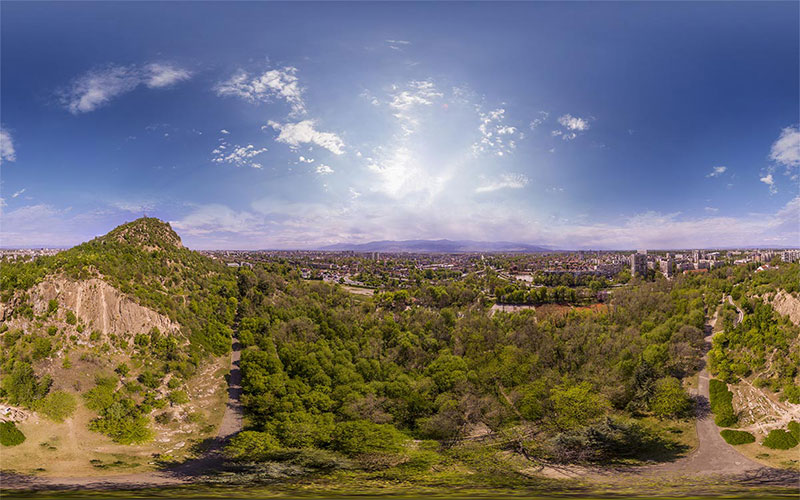 Youth Hill is one of Plovdiv's seven hills and the local's prefered place for recreation during the warm months. The area around the hill is great for just walking around with friends and family, picnics, exercise and spending time in nature.
The walk up to the top will certainly help keep you in shape and the panorama is absolutely worth it! You'll be able to see pretty much every neighbourhood in Plovdiv as well as the surrounding region which includes the beautiful Rhodope mountains. There are benches where you can sit and enjoy the view (while catching your breath).
7/ Visit the trendy district of Kapana and get a taste of local culture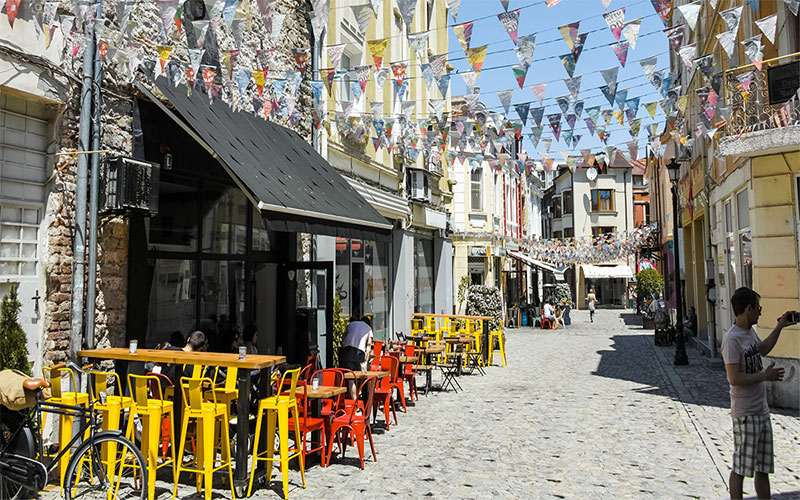 The Kapana district is one of the most popular places in Plovdiv, where young people like to hang out. The neighbourhood is full of trendy bars, restaurants and a large variety of local businesses that sell handcrafted items. You can find anything from leather bags, jewellery, cosmetics to vintage clothing and accessories. The place is simply charming – "kapana" means "the trap" and you'll certainly be "trapped" by its amazing athmosphere!
Here are a few places in Kapana worth visiting:
Pavaj – Undoubtedly one of the best restaurants in Plovdiv. Pavaj won the award for ''restaurant of the audience'' and was declared a favourite place for the citizens of Plovdiv in the annual awards for tourism of the Plovdiv Municipality. The menu is not very big but the quality of every dish is guaranteed! It's usually very busy so you will need a reservation.
Cat & Mouse – One of the best places in town where you can enjoy a great variety of craft beer. The stunning artisan-style spaces for co-working are great for students and tourists who often come to get some work done. You can sit outside under the canopy enjoying coffee and amazing Rodopi herbal tea.
Monkey House – According to visitors, Monkey House serves some of the best coffee in town. They offer many types of drinks made with coffee beans from all over the world! Ask the barista for advice if you're not sure what to order.
Veggic – This tiny vegan place in the heart of the Kapana offers amazing vegetarian food and even better deserts. You won't be left disappointed by the variety of dishes there.
8/ Play a few games of Bowling at Excalibur Bowling Bar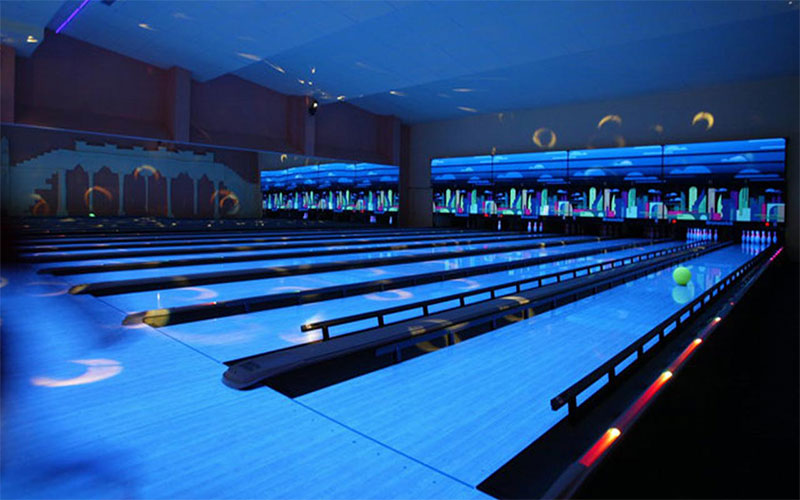 Excalibur Bowling Bar is a favourite place for both the residents of Plovdiv and guests of the city. There are plenty of bowling lanes where you can enjoy a fun game with friends and family. There is also a bar where you can order all kinds of beverages and an area with arcade games.
9/ Visit Mall Markovo Tepe on a rainy day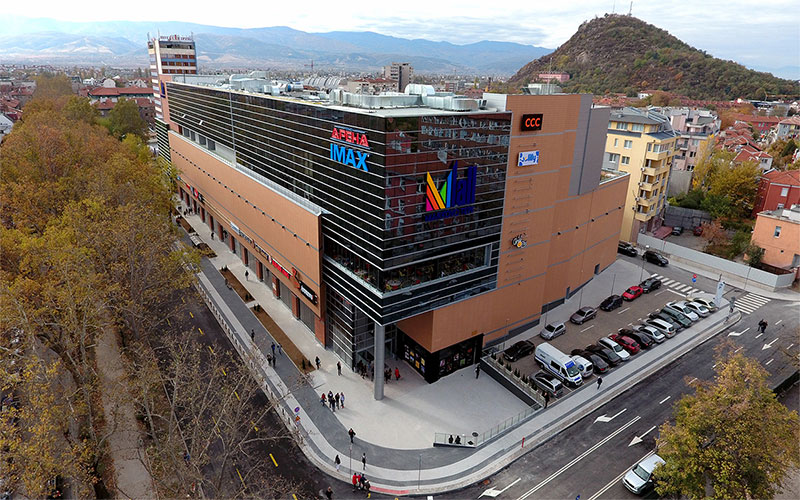 If you're in need of some shopping therapy or you'd like to see a good movie, do visit Mall Markovo Tepe. There is a cinema on its premises, plenty of shops with both national and international brands, children's centre and a large food court. The mall is a good place to have some fun on a rainy day.
10/ Visit the beautiful Garden of Tsar Simeon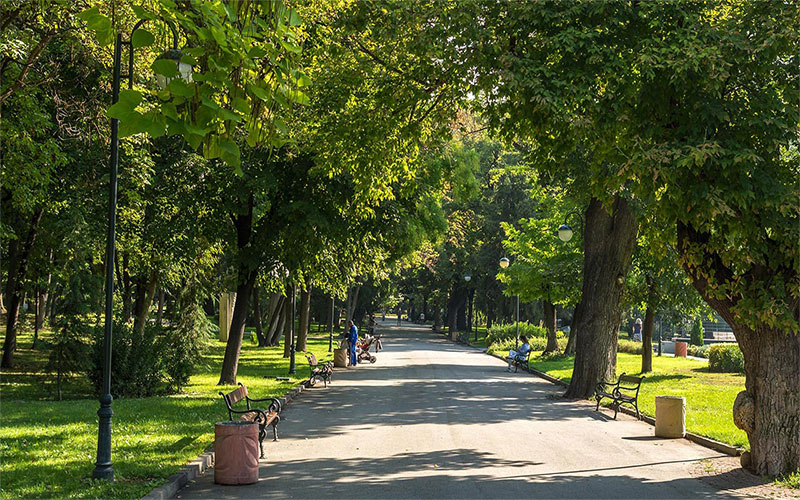 Let's end this list with the most relaxing activity in the city. The Garden of Tsar Simeon is one of the most picturesque spots in town. During the warmer months, it's perfect for a leisurely walk in nature and the local's favourite place to seek shade in the heat of the summer. The garden has long lanes full of flowers and greenery. There are numerous fountains located within its boundaries, children's playgrounds and many areas for recreation.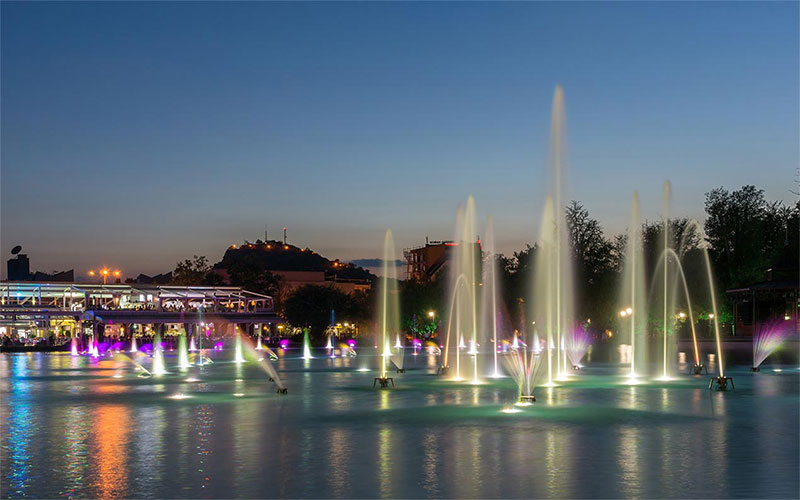 The highlight of the garden are, without doubt, the "Singing Fountains'' which are located just next to the trendy bar Morado Premium Club. You can enjoy a really unique light show performance at the fountains during summer (Thursday, Friday and Saturday evening from 21:30).
Knowing where to have fun in Plovdiv will certainly help you get the most out of your stay in the city. With so many places to explore, we're sure you'll love Plovdiv and its vibrant culture just as much as we do. If you need more ideas for entertainment, check out our guide here >