Cheap Eats Guide To Plovdiv, Bulgaria
The culinary scene in Plovdiv is no doubt growing fast with many new restaurants opening, each more inventive and creative than the other. While going to trendy restaurants in the Kapana District (or around the centre) can be an amazing experience, it might not be so budget friendly – prices in Bulgaria are not very steep in general, but if you prefer to spend less on food and more on experiences, you certainly can save a lot by eating at cheaper places. 
How can you enjoy great local food without going broke? Eating cheap in Plovdiv doesn't have to be hard, you just need to know where to look! Here are some of the best places around town where you can eat a tasty, affordable meal!
1/ Alex Foods (Halite Centre)
This is perhaps one of the most iconic fast food places in all of Plovdiv. It's been around for many years and it's one of the locals' favourite places where they can get a tasty doner kebab, especially after a night out (the place is open 24/7). You can find Alex Foods along the main pedestrian street, right next to Halite Shopping Centre. The place is generally crowded at all times of the day and it's the perfect stop for a quick lunch. 
Great variety of tasty fast food and promotions
Nowadays the chain has expanded into selling far more than just doner kababs. You can also buy burgers, grilled chicken with sides such as fresh salad or fries, all kinds of pizzas and another local's favourite – pancakes with different stuffing (sweet or salty). The prices here are also ridiculously cheap compared to the portions you get. Keep an eye out for their promotions – they are always advertised, and you'll save yourself a bit of money.
A chicken burger will cost you around 2 euros, and for 2 small doner kebabs, it's even less than than 2 euros! If you prefer something more filling – a large portion (450 gr.) of doner kebab with fries and sides will cost you just 3 euros. Now that's what we call a bargain.
Here's how to get there from the Tourist Information Centre >
2/ Food Complex Center Vitex-90 Ltd
The Food Complex is also located on the main pedestrian street and is one of the most popular places for lunch, dinner and picking up food on the go. Locals particularly love it because of the amazing variety of dishes there as well as the great quality of the food.
Affordable hot meals, grilled meats and a wide range of salads
If you prefer a hot, homemade meal there are many traditional classics that you can try here, always warm, cooked on the spot and super tasty. There is also a giant BBQ where many types of meats, vegetables and fish dishes are prepared. You can see the glass-enclosed smoker from up close and there is usually a pig inside. What to try? The lovers of meat will surely enjoy the pork ribs, grilled chicken as well as the many types of grilled fish and steaks.
Besides the large assortment of famous Bulgarian and foreign products that you can buy there such as fresh meat, eggs and dairy products, the complex also has its own butchery and culinary workshop, where special recipes are prepared on the spot. The prices here are decent in terms of value for money as the food is of great quality.
Here's how to get there from the Tourist Information Centre >
3/ Restaurant Pasha
Pasha is a traditional Turkish restaurant located in the centre of town, just feet away from the Kapana district. There's a great range of daily dishes – such as kebabs, soups, stews, fresh salads as well as classical Turkish desserts. The restaurant is very spacious, with several floors of seating and at lunch, it will be pretty busy as a lot of locals like to eat there. The prices are more than reasonable taking in mind the high quality of the offered meals.
What to try here
You can't go wrong with any of the hot daily meals that are on display. All the kebabs are also delicious, especially the lamb!
Here's how to get there from the Tourist Information Centre >
4/ Memo Sweet House
There are quite a few places on the main street that sell ice cream but not many are budget friendly. Memo Sweet House offers some amazing quality ice cream that you can enjoy (guilt-free) at a very reasonable price. 2 large balls of ice cream in a cone will cost you no more than 2 euros. The varieties available are also very impressive and there are some other desserts that you can try – including Turkish classics such as Kanafeh.
What to try here
Go for the cheesecake ice cream with blue cheese. This interesting and yet unusual combination is really tasty and unique!
Here's how to get there from the Tourist Information Centre >
5/ Wok and Load
What about some amazing street food right in the heart of the Kapana District? Wok and Load is everyone's favourite place when it comes to authentic Thai food in Plovdiv. For just over 5 euros you can enjoy a box full of noodles (or fried jasmine rice), paired with pork, beef, chicken or shrimp, as well as grilled vegetables and delicious sauces.
What to try here
You can't go wrong with a box full of rice noodles (with eggs and veggies), some shrimp and their classic Bangkok sauce.
Here's how to get there from the Tourist Information Centre >
6/ Pizza Lab
Another great spot in the centre of Plovdiv where you can enjoy a quick, cheap meal. You can choose the type of dough, sauce and toppings you want and create your own pizza. After choosing everything it takes less than 2 minutes for the pizza to be ready. Delicious, fast and budget-friendly.
How to choose
You can opt between white dough, wholemeal or even gluten-free dough. Then you can choose between a wide variety of cheeses, meats and vegetables. Pizza Lab also offers salads and desserts. The price for each size of pizza remains the same even if you put 2 ingredients or 10. The quality is well worth it!
Here's how to get there from the Tourist Information Centre >
7/ Toasty
One of the best places in town to stop for a fresh sandwich. The food in Tasty is considered ''fast food'' and yet it's prepared with a healthy twist, using fresh, clean ingredients instead of overly fried or processed ones. Think of Subway but with a Bulgarian Twist!
What to try here
The "Flavored Beef" sandwich is one of the best things you can order here. It's made with pulled roasted beef, baked mozzarella, onions, peppers, oregano, olive oil, tomatoes, pickles and olives. A regular sandwich will cost you just 2.50 euros while their biggest one is 4 euros.
Here's how to get there from the Tourist Information Centre >
8/ Lexi Supermarket
One of the most popular supermarket chains in Plovdiv is Lexi. You can find it inside the Trade Centre ''Grand'' near the centre in Plovdiv as well as another 2 locations (not so central). The supermarket offers pretty much everything from food to freshly baked bread, pastry shop, ready cooked meals and it even has a home & children's department. The prices are generally reasonable and you'll love the wide variety of foreign products that you can try!
What can you shop here
A wide selection of fresh seasonal fruits & vegetables, Bio and organic foods, products made by local producers, fresh meat & fish, ready cooked meals, local dairy products, packaged meat delicacies, homemade cakes and many more. If you want a full meal but can't be bothered with cooking or going to a restaurant, this is your place as it offers an amazing variety of traditional dishes made by the chefs in the kitchen behind the counters!
Here's how to get there from the Tourist Information Centre >
9/ Farmers Market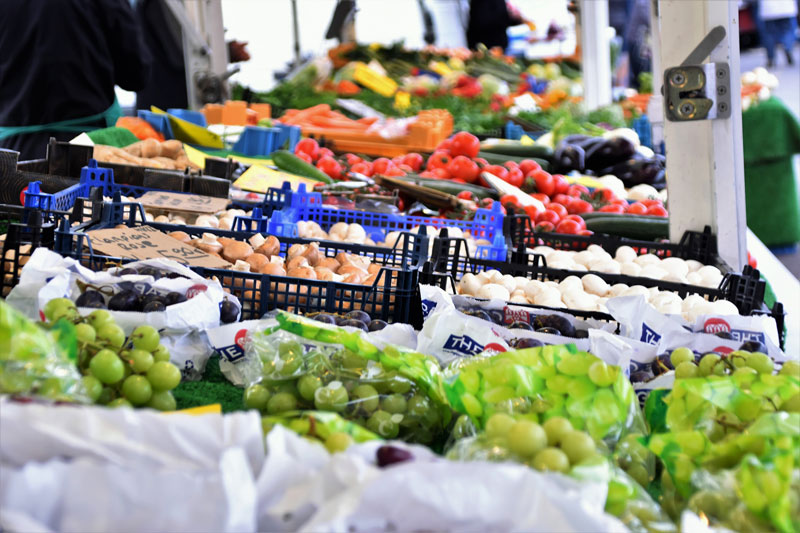 Visiting one of the Farmers markets in Plovdiv is another way to save yourself a bit of money. Keep an eye out for seasonal fruits and vegetables, especially in the warm months as they can get very cheap (and are absolutely delicious). One of the best-known markets in called ''Thursday Market'' and is located in the centre of town just next to the Unification Square (Ploshtad Saedinenie).
Here's how to get there from the Tourist Information Centre >
As you can see it's entirely possible to eat on a budget in Plovdiv without having to compromise in taste and quality. If you're curious about the food in Plovdiv, we recommend you take a look at our foodie guide to Plovdiv here > Or, start saving  money on eating out by using Plovdiv City Card – check out some of the delish discounts included in the service!