Top 5 Places For Wine Lovers In Plovdiv
With 5 major wine regions and several thousand years of wine-making traditions, there are more places in Plovdiv to enjoy a glass of Chardonnay than you can count! The best part? Cutthroat competition drives locals to ever more creative ways of combining the appreciation of the subtle drink with modern demands.
You may be wondering: how to choose? We are here to help! Apart from the amazing (and free with City Card) Urban Wine Trail, you can try one of these top 5 places for wine lovers in Plovdiv – enjoy different varieties and tastes!
1/ Wine and jazz: Note Di Vino, Little Paris neighbourhood (Kiyuchuk Parij), Plovdiv
According to popular lore: "Everything is better with music." This most definitely includes wine. You can try the combination for yourself at Note Di Vino restaurant. A fireplace, candlelight, a grand piano… The musicians will take you on a journey from Jazz to Bulgarian retro pop music and back, while you explore the different wine regions of Bulgaria.
What to try:
If you are a white wine lover, do not miss the Bulgarian twist on Muscat blanc – Tamyanka. If you are a red wine person, try Rubin – either as single-variety wine or blended with Cabernet Sauvignon and Merlot.
Here's how to get there from the Tourist Information Centre >
2/ Wine and slow food: Hebros Restaurant, Old Town Plovdiv
An award-winning restaurant
While wine is an art form in itself, paired with a wonderful meal, it can bring exquisite joys to the palate. The owner of the award-winning t Hebros Hotel & Restaurant is the founder of the slow food movement in Plovdiv. His mission? Help people rediscover la joie de vivre. And the restaurant's a menu and wine list are designed to achieve this goal.
Age-old recipes, reinvented with modern techniques and fresh seasonal products are turned into mouth-watering plates. And the finishing touch: a 48-page wine list drawn from the hotel's specially dedicated enoteca "Regional wine".
What to try:
While the wine list offers varieties from all over the world, our suggestion is to try the traditional Misket (white) and Gamza (red).
Here's how to get there from the Tourist Information Centre >
3/ Wine and SPA: Todoroff Wine Residence, Brestovitsa village
The Todoroff Wine Residence is the perfect spot for wellness connoisseurs. Situated at the foot of Rhodope mountains, it is peace incarnate. In Todoroff Estate, you can see the nuts and bolts of wine production, taste wines young and old. You can also enjoy the SPA centre which offers special grape-based treatments.
What to try:
Muscat (white) and Mavrud (red) are the Bulgarian highlights of this cellar. Make sure to also try some of the various wine and grape-based SPA treatments.
Here's how to get there from the Tourist Information Centre >
4/ Winemaking and history: Wine and SPA Complex 'Starosel', Starosel village
Remember that millennia-old winemaking tradition? Well in Starosel you can see the proof. The nearby Thracian tomb includes a huge vessel where traces of wine can still be seen. There are several ancient sacred sites in the near vicinity of the village. These wondrous archaeological finds were discovered only a few years ago.
The Estate
The design of the estate itself is a modern take on the traditional Bulgarian house. Though Starosel Winery does not focus on local grape varieties, you can taste here a strain of white Muscat.
What to try:
If you've always wondered what it feels like to create a wine, here you can experience the most exciting stage of the process! You can try first-hand the art of wine blending.
Here's how to get there from the Tourist Information Centre >
5/ Wine and chill: Kapana Neighbourhood, Plovdiv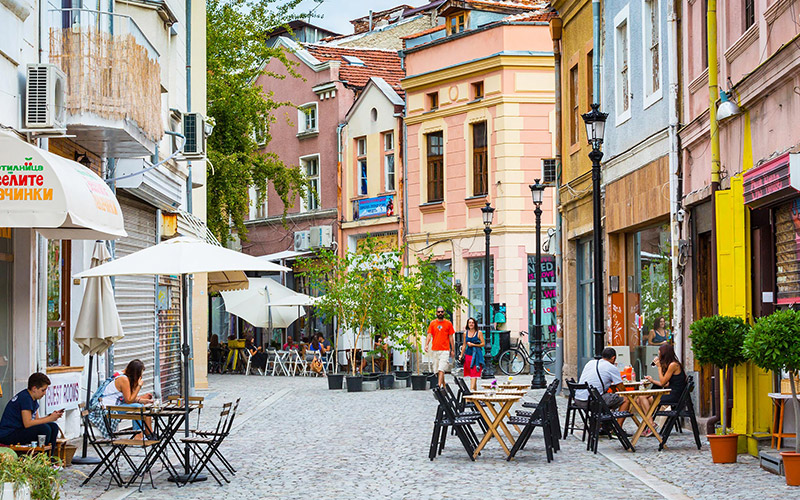 Well, technically this is not a single place. Kapana (or in English: the Trap) is a hip neighbourhood next to the main pedestrian street, which went through nothing short of a resurrection in the past few years and is now bustling with life.
In Kapana you can easily feel the "Plovdiv ailyak" philosophy. It simply means to chill out and enjoy life. And that includes having good wine in the company of wonderful people. Here you can find more than a handful of charming restaurants and vintage bars with impressive wine lists.
What to try:
Kapana is a place to go treasure hunting and search for lesser-known Bulgarian wines. From Pamid to Dimyat, Broadleaf Melnik and Keratsuda: give free rein to your tasting buds.
Here's how to get there from the Tourist Information Centre >
Why not explore the rest of Plovdiv and see just how many amazing places there are that you can visit?