Top 10 Events From The Plovdiv 2019 Programme
In 2019, Plovdiv is one of the two cities awarded to be European Capital of Culture (along with Matera, Italy). The entire city is blooming with activity and has already transformed into an incredible urban scene, with many cultural events taking place. There are many festivals, concerts, shows, workshops and competitions happening. If you're feeling a little bit lost in the huge variety of the programme, here are some of the best Plovdiv 2019 events you can visit in the upcoming months!
On May 4th you will have the opportunity to experience the second edition of the most colourful and exciting parade Plovdiv has ever seen! The Parade will take over the entire length of the main pedestrian street in Plovdiv (longest pedestrian zone in Europe). Hundreds of participants from Bulgaria, UK and Italy will show off their specially designed costumes. But that's not all. Expect to see some incredible and unique choreography, installations, platforms and giant self-made puppets.
Where: Main Pedestrian Street
When: May 4th, 12:00
2/ Brexit Blues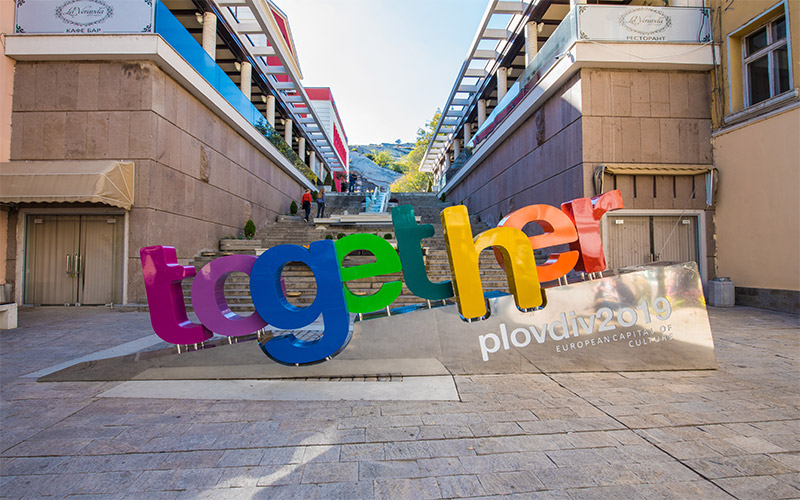 The Brexit Blues Music Festival will deliver a strong international message: Europe remains culturally connected despite the Brexit. The festival is held within a weekend and includes a series of urban concerts by Bulgarian and English musicians presenting the music scene of England from the 1950s to present. You can expect music genres such as English rock and roll, progressive rock, punk, jazz, blues and choral performances.
Where: Main pedestrian street
When: The month of May (dates are still to be confirmed)
At the beginning of June, 13 artistic companies from all parts of Europe will head down to the European Capital of Culture. Theatres from CITI (International Center for Traveling Theaters) will make their way through Europe by foot, horses, bicycles or trucks eventually gathering in Plovdiv for a series of activities. They will set up three large artists camps with 200 artists, technicians and art rapporteurs sharing their crafts at workshops. On 10 June, all 13 companies together will launch the Farewell Parade.
Where: Rowing Canal (Regatta Venue), Trakia District & Stolipinovo
When: 1-10 June
4/ Hills of Rock
Undoubtedly the best place to be for any fan of rock music. The 'Hills of Rock' festival is one of the most anticipated and loved by locals festival in Bulgaria. It takes place annually at the Rowing Canal in Plovdiv on four stages, each offering different music genres. Some of the bands you can expect to see up on the stages this year include Disturbed, Whitesnake, Garbage, Amaranthe, Mushroomhead and Royal Republic.
Where: The Rowing Canal
When: 28-30 June
5/ Opera Open
The 'Opera Open' music festival has brought the world's top performers and orchestras to Plovdiv for 30 years now. More than 10 shows will take place between the 14th of June and the 31st of July. The festival will feature top opera performers and conductors from Europe, the U.S. and Asia, as well as Bulgarian singers and musicians that are known internationally. The highlight of the festival will be Gluck's 'Orfeo ed Euridice', a large-scale co-production with Teatro Regio di Parma directed by the world famous Stefano Poda.
Where: The Ancient Theatre
When: 14th June – 31st July
6/ One Dance Week
The festival returns to Plovdiv for its 12th edition in September and October 2019. You'll get a chance to see dance performances from all over the globe, performed by famous artists and rising young talents. These will include the most exciting and notable performers in the field of contemporary dance in Europe, Asia and America. Curious who'll be there? The famous Japanese choreographer Shiro Takatani and the world-famous choreographer Dimitris Papaioannou are just some of the names.
ATMA // световна премиера // официален трейлър

Как се вписваме в света около нас? Варвари ли сме в отношението си към природата? В АТМА човек и животно са обединени в непрекъснато променящ се организъм, който разказва истории за оцеляването, уязвимостта и жаждата да доминираш. За изгряващите звезди Данай Димитриади и Дионисиус Аламанос зад този изключителен спектакъл за човека ще се говори тепърва. А ONE DANCE WEEK е горд ко-продуцент.Не пропускайте ONE DANCE WEEK: АТМА (световна премиера) на 6 октомври. Очакваме ви!

Gepostet von ONE DANCE WEEK am Dienstag, 18. September 2018
Where: House of Culture "Boris Hristov"
When: 21st September – 14th October
7/ Plovdiv Jazz Festival
The streets of Plovdiv will enjoy the sound of йazz this autumn too, as the annual Jazz Festival returns to the ancient city for yet another year. Jazz has been part of Plovdiv's traditions and culture for decades. The festival has brought the world's most influential jazz artists to Plovdiv. This years programme will include master classes, jam sessions, exhibitions, a full jazz award, and a Youth Jazz Contest.
Where: House of Culture "Boris Hristov", Beebop Café
When: 31st October – 3rd November
In the month of September, you can enjoy a series of festivals and events dedicated to food. The aim of the project is to unify people through food, entertain, educate and combine tradition and innovation into one. This is a great opportunity to try some local cuisine, socialize with some locals and just have fun! What will the programme include?
Lectures, workshops, local and regional producers, startups developing culinary innovations; bio foods and locally produced foods and beverages.
Where: Central Square
When: 14-16 September
9/ Summer by the River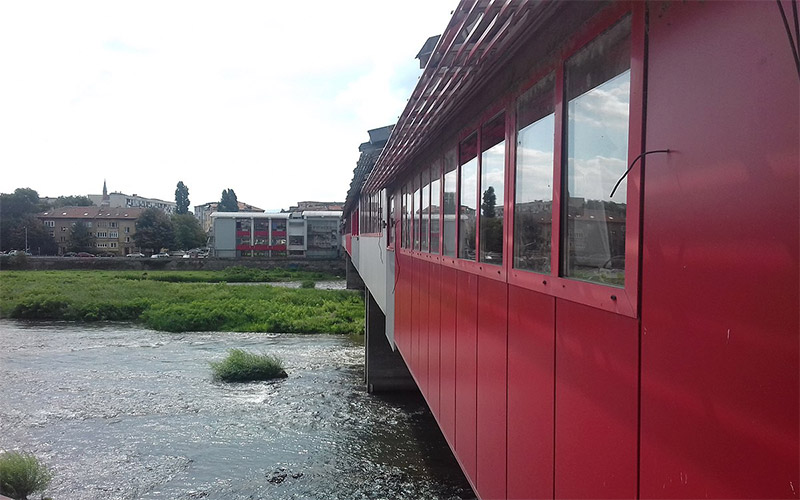 As the summer season begins multiple events are scheduled to take place along the banks of the Maritsa river. The newly renovated area will delight its visitors with events such as a parade, a city picnic and a night show with sound and lights projected on one of Plovdiv's bridges. The pedestrian alley along Maritsa is also a good place to visit during the day. It offers great views of the river, recreation and children's areas and some exercise equipment.
Where: Maritsa River Banks
When: 3-4 August
10/ The Love Swing Dance Festival
The Love Swing Dance Festival is an international event for swing dancing and culture. This year visitors can enjoy the second edition of the festival which will take place in Plovdiv in the fall. In its 4 day programme, you can immerse yourself in daily swing dance lessons with some of the best dancers in the world. There will also be competitions, evening shows and lots of live music right in the heart of Plovdiv.
Where: Plovdiv Drama Theatre, Sklad
When: 3-6 October
All these events are a great opportunity to get to know Plovdiv, its citizens, rich culture and history. One thing is for sure – this yet small and ancient city has more than enough to keep any visitor entertained and amazed for days!